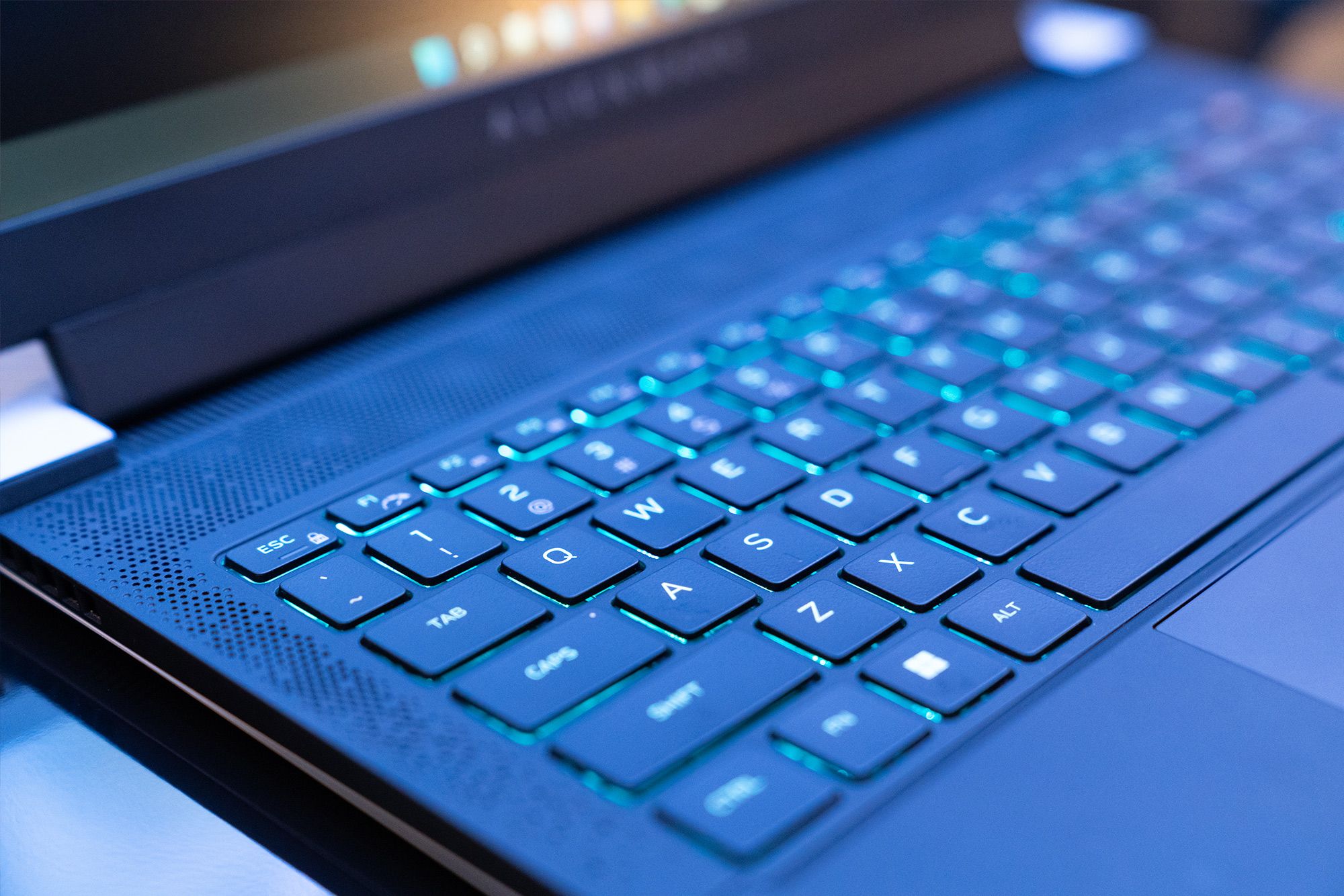 Alienware Amps up Portability, Performance and Peripherals
By: Vivian Lien, VP of Gaming
No matter if you're into hyper-realistic world-building or heart-pounding monster-slaying, incredible experiences are woven into Alienware's DNA. This past year, for the benefit of gamers both casual and hardcore, we took that ethos to exhilarating new heights!
In 2021, we unveiled our thinnest gaming laptops yet, Alienware X-Series with breakthrough system-level engineering controls to let you play the latest and greatest PC gaming titles anywhere. We completed an inside-out redesign of our flagship Alienware Aurora desktop, enriching the gaming experience in every way. And yesterday, we cranked it up even more with the grand introduction of Concept Nyx, a radical skunkworks project from the depths of Alienware's labs, driven by the vision to allow multiple players in a single household to game on any device, simultaneously, and in high-fidelity.
As players multiply in every region of the world and we gear up for hotly anticipated new game releases in 2022, the hype has never been stronger with development and innovation to match – including major updates across our Alienware mobility family and peripheral ecosystem.
Warning: there's a lot to dig into below. From the world's thinnest 14" gaming laptop; to the most powerful 17-inch AMD Advantage gaming laptop out there; to the world's first Quantum Dot OLED gaming monitor, each new device is packed with innovations. We are just going to scratch the surface here, but check out the links at the end for more details on each.
Make your moves while on the move
As a gamer, what's your top priority? We've designed and optimized our M-Series and X-Series for two types of players: those who value raw power above all else (M-Series), and those who prioritize mobility but also require the latest gaming technologies (X-Series). With that in mind, Alienware comes to CES 2022 with the perfect rig for everyone.
Are you a mobile gamer who wants excellent portability? Look no further than the new Alienware x14. Our thinnest laptop to date is made possible through a clever new patent-pending hinge design, which lets us pack a lot under the hood: from our suite of Alienware Cryo-Tech cooling technology which optimizes thermal performance, to the largest Whr battery capacity on a 14" gaming laptop capable of over 11 hours of HD video playback.[1]
The Alienware x14 is the first 14" laptop supporting NVIDIA's Advanced Optimus and G-SYNC technologies – so battery life is optimized even during immersive gaming sessions. The Alienware x14 is also the first Alienware laptop to use Type-C ports exclusively as charging ports. Under the hood, you can find the latest 12th Gen Intel® Core™ H-series processors and our exclusive thermal interface material, Element 31, in addition to Intel® Arc™ Graphics or NVIDIA GeForce RTX 3060 laptop GPU with 7-phase voltage regulation. It truly is a gamers lifestyle companion fit for every environment.
For those who desire bigger displays but the same high portability, we're also unveiling key upgrades to the improved Alienware x15 R2 and Alienware x17 R2, which includes a completely new set of eye-popping graphics options from NVIDIA GeForce RTX™ 30 Series, 12th Gen Intel Core processors, faster memory (now running at up to DDR5 6400Mhz speeds), AlienFX stadium lighting and other great features you'll love!
Now let's shift gears to our M-series gaming laptops. For extreme gaming performance that delivers a competitive edge, Alienware m17 R5 blasts past the competition as the most powerful 17-inch AMD Advantage™ gaming laptop in the world. With a whole lot of AMD – AMD Ryzen™ 6000 Series processors, AMD Radeon™ RX graphics, AMD FreeSync™ Premium[2] technology, AMD SmartShift MAX, AMD Smart Access Memory™[3] technology, and the first available laptop to feature AMD SmartAccess Graphics – our all-new m17 delivers an incredible combination of gaming technologies spanning hardware and software that create a gaming experience greater than the sum of its parts. All of this is cured with Alienware Cryo-tech cooling technology including graphics vapor chamber cooling[4] to sustain high-performance through long marathon gaming sessions, whether you're playing your favorite indie game or the latest high-end AAA title.
The Alienware m17 is a machine to satisfy your senses: from outstanding graphics across a range of impressive display options supporting lag-free action, to the satisfying "deep-click" feel of its highly tactile,3 optional CherryMX mechanical keyboard. We're also offering the mid-size Alienware m15 R7, a 15-inch model available with either AMD Ryzen™ processors or 12th Gen Intel Core H-series processors now supporting latest NVIDIA GeForce RTX 30-Series GPUs.
Your sight and sound experience just got better. The entire Alienware laptop family is now equipped with Dolby Vision for full-spectrum visuals and immersive spatial audio with and Dolby Atmos. Distinguished by incredible brightness, more vibrant colors, sharper contrast and richer details, along with sounds that move all around you with three-dimensional precision, you'll always feel like you're truly inside the game.
(If you haven't seen it, check out our latest concept we unveiled - Concept Polaris - which is our take on the Gaming eGPU. This concept is how we could reimagine delivering even more performance options to mobile gamers and potentially expand the gaming ecosystem).
Kick your senses into high gear
Alienware is giving our customers the ultimate battle station and bringing the gaming experience to a whole new level with its new peripherals. Designed for out-of-this-world viewing experiences, top-notch sound quality, customizable features and ergonomics – these new peripherals will put you at the top of your game.
Let's start with the world's first Quantum Dot OLED gaming monitor! For gamers who play racing, simulation or action-adventure games, or Twitch streamers and content developers, we're excited to introduce the Alienware 34 Curved QD-OLED Gaming Monitor (AW3423DW), a CES Innovation Award Honoree. This big, beautiful beast offers stunning color performance and high luminance with crystal-clear visuals for an immersive gaming experience.
But what exactly is Quantum Dot OLED (QD-OLED) technology and why should I care? In its simplest form, a QD-OLED display combines the impressive picture qualities of OLED with Quantum Dot technology to deliver a vibrant, life-like color performance including consistent color uniformity, wide color coverage, incredible brightness and OLED reliability we stand behind with a 3-year limited hardware warranty that covers OLED burn-in. (For a more tech explanation, watch the video below.)
Combine this with the sleek, curved 1800R panel that's accented by the new Legend 2.0 design and you've got a true beauty unlike anything else. It doesn't stop there either:
● Designed for lag-free play, its smooth graphics are enabled by fast 0.1ms Gray to Gray response Times, 175Hz (native) refresh rate and NVIDIA G-SYNC® ULTIMATE certification.
● For content makers and game developers that need precise color accuracy, the Creator Mode preset on the display allows you to choose between DCI-P3 (native) and sRGB color spaces and adjusts gamma levels.
● TUV-certified ComfortView Plus reduces harmful blue-light emissions (perfect for marathon gaming sessions) without sacrificing any of the brilliant QD-OLED colors, while the AlienFX lighting on the back of the monitor can be customized to match your aesthetic.
Alienware Tri-Mode Wireless Gaming Headset (AW920H), also a CES Innovation Award Honoree, can keep you playing comfortably. Inheriting our Legend 2.0 design, it is our most comfy headset with a slimmer silhouette, leatherette covering and soft memory foam earcups. Embedded with active noise cancelling, immersive multidimensional audio (powered by Dolby Atmos!), integrated touch controls and versatile device connectivity, this headset is perfect for PC and mobile gaming as well as music and entertainment. And it'd be a miss to not mention this: just 15 minutes of fast-charge renders 6 hours[5] of use and a full charge enables up to 55 hours[5] of gameplay.
Pick up the Alienware Tri-Mode Wireless Gaming Mouse (AW720M) and you immediately know it feels right. That's because it's weight-optimized at 89g, with a new slimmer design, 3D-sculpted ambidextrous thumb grips and iconic AlienFX RGB lighting. Its next-gen, 26,000 DPI optical sensor and magnetic force keyplates ensure the high-level performance you expect from a gaming mouse.
Kicking things up a notch, this gaming mouse also comes with NVIDIA Reflex system latency measurement technology, meaning that you can start every match knowing your PC is operating at the lowest possible system latency when paired with NVIDIA G-SYNC displays. Not to mention it comes with multiple modes of connectivity and a patent-pending, magnetic, snap-on charger that provides up to 15 hours[5] of gameplay on a 5-minute charge, or up to 140 hours[5] of gaming when fully charged.
That's A Wrap
We told you there'd be a lot. Glad you stuck with us—2022 is going to be big and we can't wait to share updates along the way. Stay tuned for an Alienware Update on Twitch in February. Until then, you can learn more about our new Alienware laptops, display and peripherals by checking out our press kit here. Or sign up here for real time updates on upcoming news arriving this year.
Pricing & Availability
Coming soon this Winter:
● Alienware x14 starts at USD $1,799.
● Alienware x15 R2 starts at USD $2,199.
● Alienware x17 R2 starts at USD $2,299.
● Alienware m15 R7 with Intel processors starts at USD $2,099.
● Alienware 34 Curved QD-OLED Gaming Monitor (AW3423DW) pricing to be confirmed nearer to shipping dates.
● Alienware Tri-Mode Wireless Gaming Headset (AW920H) starting at USD $199.99.
● Alienware Tri-Mode Wireless Gaming Mouse (AW720M) starting at USD $149.99.
Coming later this Spring:
● Alienware m15 R7 with AMD processors starts at USD $1,499.
● Alienware m17 R5 AMD starts at USD $1,599.
---
[1] Local video playback battery benchmark: Alienware x14 tested with 12th Gen Intel Core i7-12700H, 32GB RAM, 1TB SSD, and NVIDIA GeForce RTX 3060 graphics. Testing conducted by Dell labs in in December 2021 using the Microsoft Movies & TV app. Actual battery life may be significantly less than the test results and varies depending on product configuration and use, software, usage, operating conditions, power management settings and other factors. Maximum battery life will decrease with time. The stated Watt Hour (WHr) is not an indication of battery life.
[2] AMD FreeSync™ technology requires AMD Radeon™ graphics and a display that supports FreeSync technology as certified by AMD. AMD FreeSync™ Premium technology adds requirements of mandatory low framerate compensation and at least 120 Hz refresh rate at minimum FHD. AMD FreeSync™ Premium Pro technology adds requirements for the display to meet AMD FreeSync Premium Pro compliance tests. See www.amd.com/freesync [amd.com] for complete details. Confirm capability with your system manufacturer before purchase.
[3] Smart Access Memory technology enablement requires an AMD Radeon RX 6000 series or RX 5000 series GPU, Ryzen 5000 or 3000 series CPU (excluding the Ryzen 5 3400G and Ryzen 3 3200G), a 500 series motherboard with the latest BIOS update, and AMD Desktop Kits (4800S Series and later). BIOS requires support for AGESA 1.1.0.0 or higher. Download latest BIOS from vendor website. For additional information and system requirements, see https://www.amd.com/en/technologies/smart-access-memory. GD-178
[4] Only found in configurations using AMD Ryzen 9 processors and AMD Radeon RX 6850M XT graphics.
[5] Battery life may vary based on settings or usage.