New Alienware Command Center 6.0 FAQ
Just got your new m16, m18, x14, x16 or R16? Got questions about the new Alienware Command Center (AWCC)? Check out the FAQ below to answer all your questions!
What systems are currently compatible with Alienware Command Center 6.0?
Alienware x14 R2
Alienware x16
Alienware m18
Alienware m16
Alienware Aurora R16
Dell G15 5530
Dell G16 7630
Which peripherals are supported by Alienware Command Center 6.0?
Note: Peripherals below are only supported with AWCC 6.0 when paired with the systems above. If you are using another Alienware, Dell G Series or third-party system with one of the peripherals below you can still access AWCC 5.x.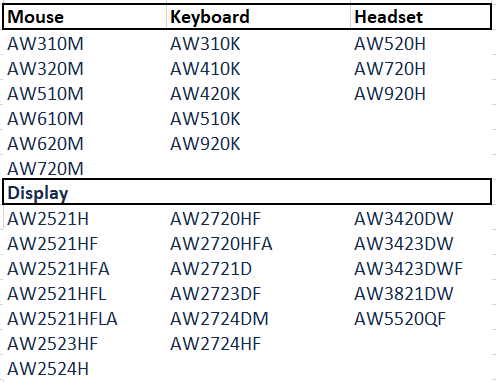 What's the latest version of AWCC 6.0?
The current version of AWCC is 6.0.330.0, A00 as of Aug 17, 2023
Fixes & Enhancements:
Improved the Alienware Command Center application launch time.
Added Go Light, Go Dark, and Go Dim features to quickly turn AlienFX lighting ON, OFF, and to 50% brightness. Support for this feature with AW420K and AW920K keyboards will come in a future release.
Supports the Ctrl + select command to select multiple keys when assigning AlienFX lighting to the keyboard
What are the improvements between AWCC 5.5.x and 6.0?
Alienware Command Center Version 6.0 is built on a new architecture with improved UI and UX. It enables you to access, monitor, and control your Alienware PC's performance, Alien FX, ALien FX Lighting, Peripheral Settings, and Game Library.
Will AWCC 6.0 be available on my legacy Alienware or G Series system?
At this time, Alienware Command Center is available on our new family of Alienware and G Series laptops referenced in this document. We are currently exploring backwards compatibility and timing for it.
Can I install an older version of Alienware Command Center on my new Alienware or G Series laptop after AWCC 6.0 is installed?
No, attempts to install Alienware Command Center 5.5.x while Alienware Command Center 6.0 is installed, will trigger an automated abort.
I have AWCC 6.0 installed, why are there no devices detected?
Please check to see if the device you have connected is supported under AWCC 6.0. This info can be found under Dell Support website or our user guide.
I have AWCC 6.0 installed however I'm having issues with my attached peripherals:
Please check to ensure the latest version of AWCC 6.0 is installed on your system. To check which version you have installed open AWCC 6.0 and navigate to the Settings icon on the bottom left of the screen. The latest version of AWCC is: 6.0.180.0, A00
If your system has not automatically upgraded to the latest version, you can manually download the latest version by going to Dell.com/support >> Drivers & Downloads.
How can I collapse or disable the performance overlay in AWCC 6.0?
To temporarily collapse the performance overlay click the Close "X" button or use the default hotkey (Ctrl+Shift+O for systems with Intel CPUs and Ctrl+Shift+Y for systems with AMD CPUs) to collapse or expand it.
Note: A colored bar will remain on the screen when the overlay is collapsed, clicking on the colored bar will re-expand the overlay.
If you prefer to disable the performance overlay altogether you can navigate to Settings >> Overlay and unselect the "Automatic launch overlay in game mode" checkbox.
---