New Alienware Command Center 6.0 FAQ
Just got your new m16, m18, x14 or x16? Got questions about the new Alienware Command Center (AWCC)? Check out the FAQ below to answer all your questions!
What systems are currently compatible with Alienware Command Center 6.0?
Alienware x14 R2
Alienware x16
Alienware m18
Alienware m16
Dell G15 5530
Dell G16 7630
Which peripherals are supported by Alienware Command Center 6.0?
Note: Peripherals below are only supported with AWCC 6.0 when paired with the systems above. If you are using another Alienware, Dell G Series or third-party system with one of the peripherals below you can still access AWCC 5.x.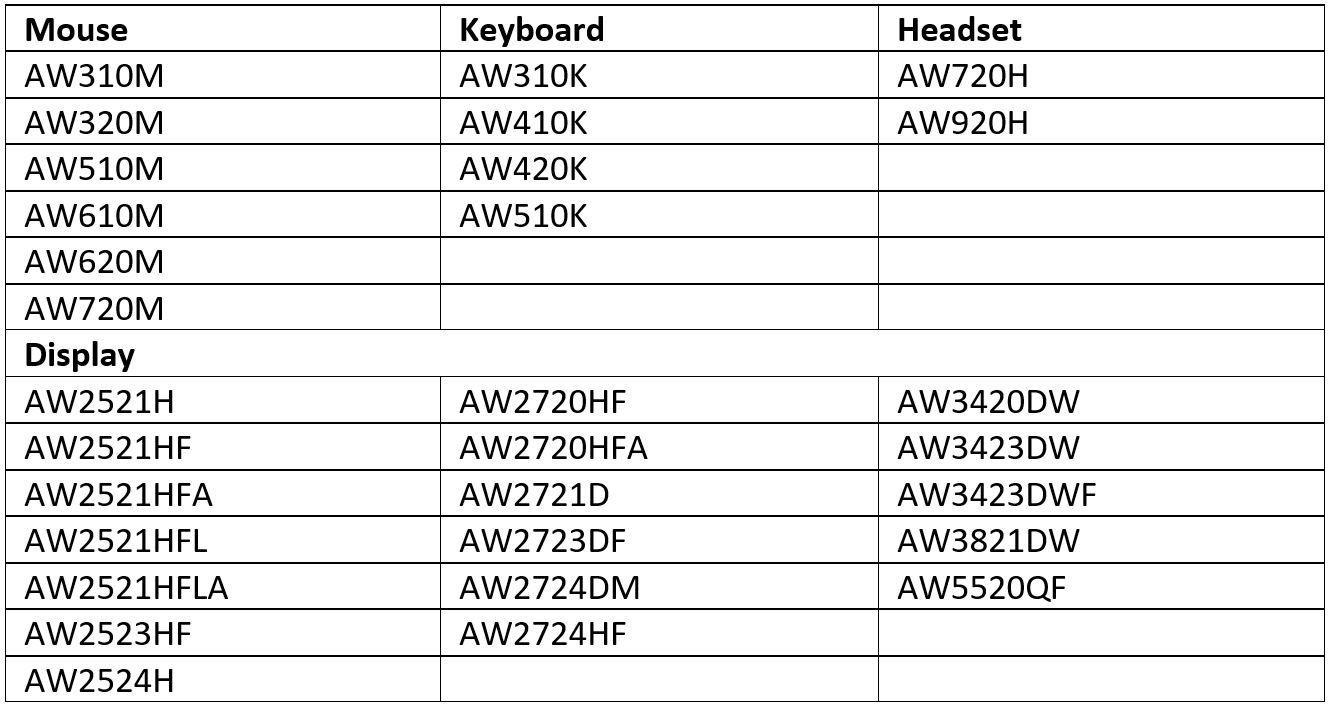 What's the latest version of AWCC 6.0?
The current version of AWCC is 6.0.241.0, A00 as of May 25, 2023
What are the improvements between AWCC 5.5.x and 6.0?
Alienware Command Center Version 6.0 is built on a new architecture with improved UI and UX. It enables you to access, monitor, and control your Alienware PC's performance, Alien FX, ALien FX Lighting, Peripheral Settings, and Game Library.
Will AWCC 6.0 be available on my legacy Alienware or G Series system?
At this time, Alienware Command Center is available on our new family of Alienware and G Series laptops referenced in this document. We are currently exploring backwards compatibility and timing for it.
Why did my new Alienware or G Series laptop come installed with AWCC 5.5.x?
New Alienware m16, m18 and x16 systems may arrive with AWCC 5.5 but will automatically update to version 6.0 when available. Any profiles created in AWCC 5.5 will not migrate to 6.0. If you defer the automatic update, please follow manual instructions for updating to AWCC on Dell.com You can learn about the different ways to upgrade to AWCC 6.0 here.
Can I install an older version of Alienware Command Center on my new Alienware or G Series laptop after AWCC 6.0 is installed?
No, attempts to install Alienware Command Center 5.5.x while Alienware Command Center 6.0 is installed, will trigger an automated abort.
I have AWCC 6.0 installed, why are there no devices detected?
Please check to see if the device you have connected is supported under AWCC 6.0.  This info can be found under Dell Support website or our user guide.
I have AWCC 6.0 installed however I'm having issues with my attached peripherals:
Please check to ensure the latest version of AWCC 6.0 is installed on your system. To check which version you have installed open AWCC 6.0 and navigate to the Settings icon on the bottom left of the screen. The latest version of AWCC is: 6.0.180.0, A00
If your system has not automatically upgraded to the latest version, you can manually download the latest version by going to Dell.com/support >> Drivers & Downloads.
How can I easily turn off all the AlienFX lighting on my system with AWCC 6.0?
If you'd like to turn off all AlienFX lighting on your system, you can create a custom preset by following the steps below:
Navigate to the Game Library
Double-click on System Default
Click AlienFX
Click the "+" button on the right
Select all devices/zones
Select "Color"
Change brightness to 0% or change all RGB color values to 0
Save the preset with a specific name.
Done.
When you want your lights back on, go back and choose your default preset. Note: The presets are bound to specific scenarios either under system default or game mode, if you will like certain games to launch with no lighting effect, please double click into the game title and follow steps above again.
---