Alienware Revamps its Iconic Laptop Armada at CES 2023
By Ryan Gu, Alienware Product Director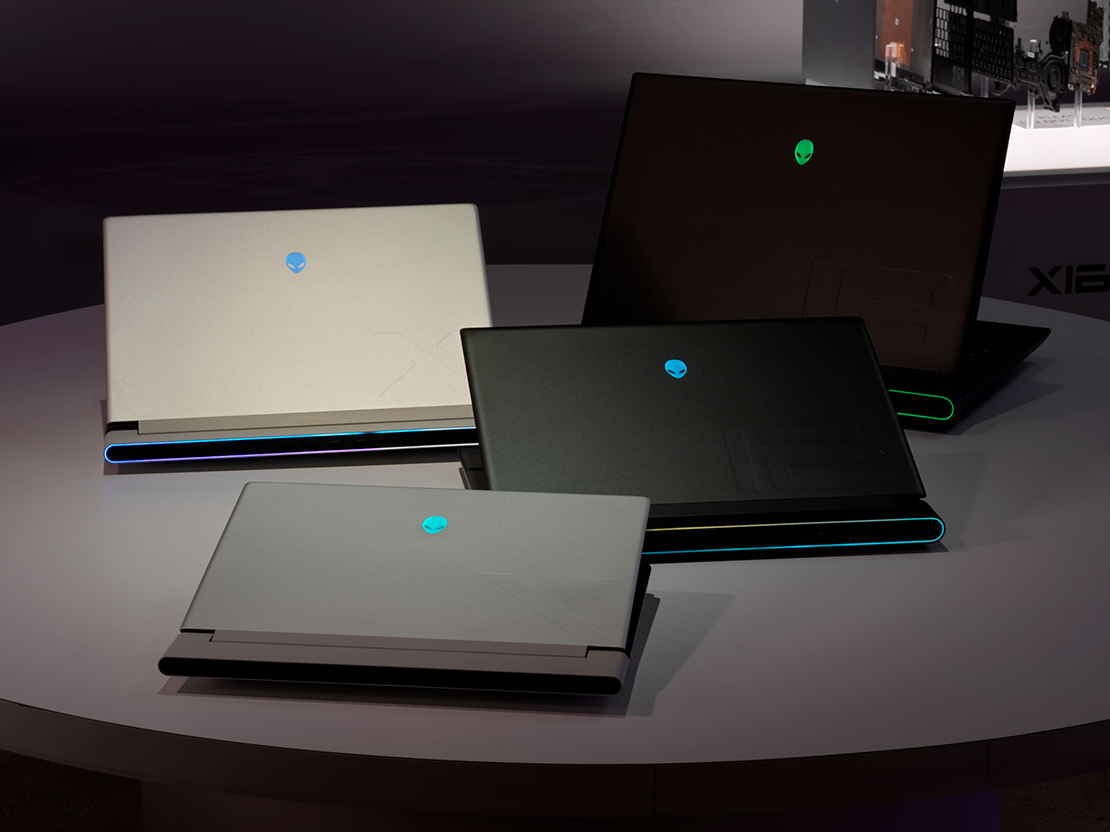 Alienware and Dell today reveal six new gaming laptops including: Alienware m18 and m16, Alienware x16 and x14, and Dell G16 and G15. And these aren't small updates either – the roster debuts updated form factors and materials, best-in-class performance upgrades, design and comfort enhancements, as well as an overhauled Alienware Command Center.
As what defines preeminent gaming experiences constantly evolves, Alienware and Dell continue to set itself apart with meaningful high-impact innovation that meets the changing needs of gamers. Whether you're a competitive or hobby gamer, if freedom without compromise is what you value most, look no further than our intrepid new fleet of high-performance laptops.
New Alienware laptops galvanize gamers with elite power, performance and design
In 2019, we made a bold move to undergo a complete portfolio redesign to distinguish Alienware's brand identity from the industry. At the time, the landscape was swarmed by red and black machines. It was at that time we chose to charter a new course for Alienware and retire the iconic space-age identity of our Epic design language.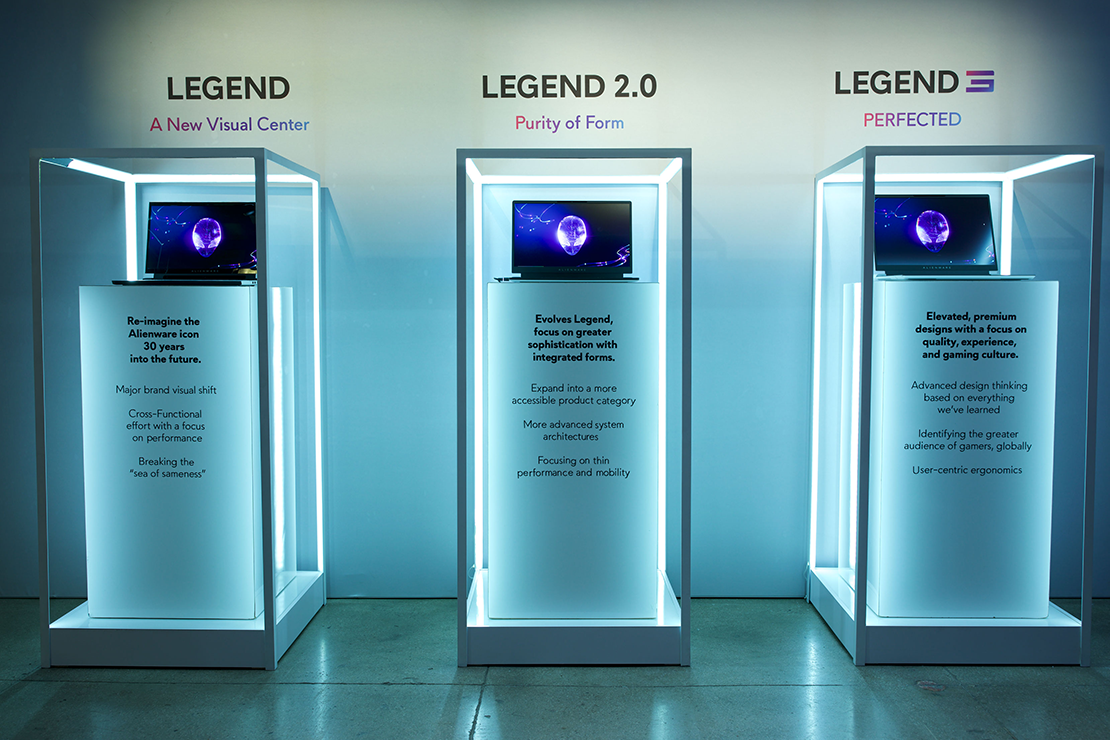 The journey began with our design team sifting through endless scores of Sci-fi lore and artwork across a variety of mediums (comic books, games, illustrations, and film). The goal was to project the iconic AW design 30 years into the future. This led us to our current design framework, known as Legend.
Now entering its third evolutionary stage, Legend 3 debuts today on all four new Alienware laptops. With a keen focus on form, function and quality, the latest machines bring forward intuitive design features that reinforce interactivity and convenience—all while enabling higher performing technology.
Our family of Alienware gaming laptops has historically focused on 15" and 17" screen sizes. That all changes today, with the introduction of 16" and 18" screen sizes alongside our 14" model that was unveiled last year (CES 2022). This foundational shift was driven by the improvements delivered via our Alienware Cryo-tech thermal solution which enables us to adopt these larger displays without making significant changes to the footprint of each device.
Across the new Alienware laptop family, we've enabled the following features to help ensure that your gameplay and entertainment experiences are comfortable, expressive and enjoyable:
Taller 16:10 displays usher in more screen real estate for a greater field of view.
Dolby Atmos for immersive, spatial sound and Dolby Vision for stunning visuals, so you feel closer to your favorite entertainment.
All panels feature ComfortView Plus, our hardware-based technology meant to reduce blue light emissions without impacting performance or picture quality.
Higher-resolution FHD webcam to improve the quality of video interactions.
New bottom foot design allows airflow through the underbelly and into the heart of the chassis to aid overall system performance.
Element 31 thermal interface material now placed on both the CPU and the GPU to help ensure heat dissipation is optimized.[i]
Revamped Alienware Command Center 6.0 rebuilt to improve stability, navigation between features, and control over system performance. (more on this below)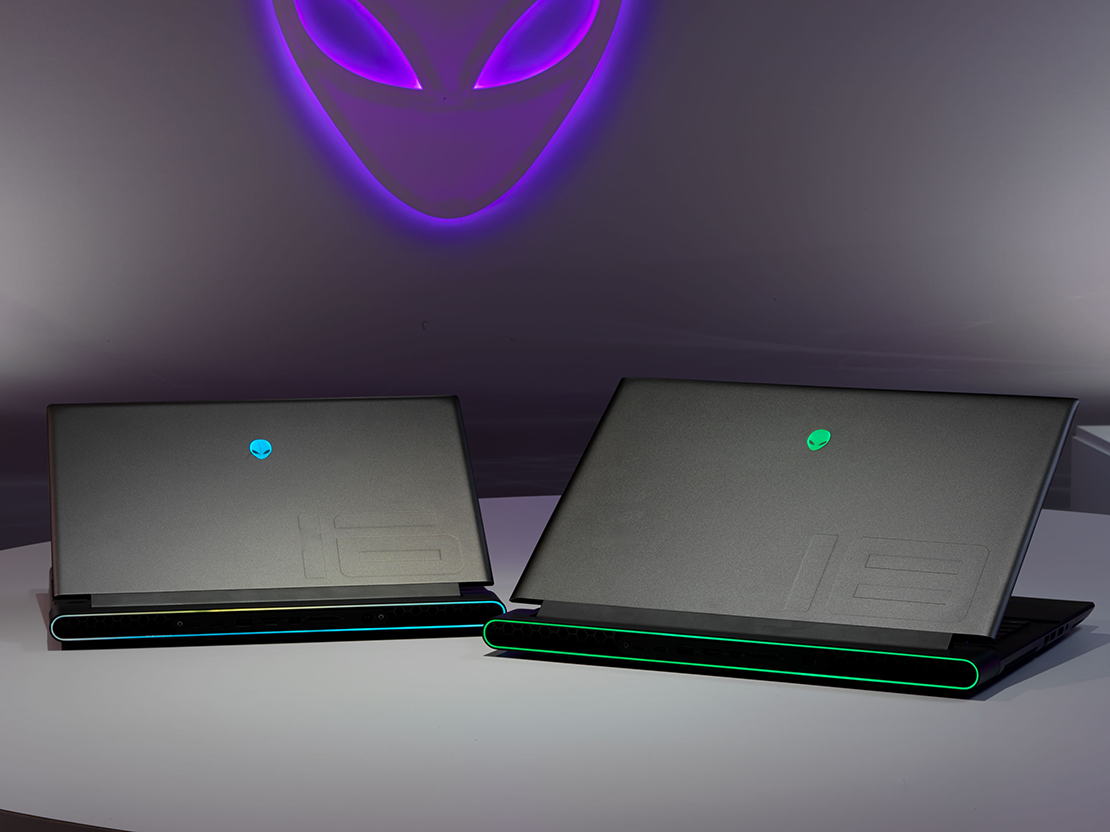 Meet Alienware's new 18-inch performance juggernaut, introducing the m18
Alienware M Series is designed for gamers who prioritize performance. Rising to that challenge are the all-new Alienware m18 and Alienware m16 powerhouses.
Alienware's most powerful laptop, the m18[ii], is in a performance class of its own, with customization options that span the gamut of new CPU and GPU technology. This includes up-to 13th Gen Intel Core i9-13980HX processors and NVIDIA® GeForce RTX™ 4090 Laptop GPUs, plus next-gen AMD Ryzen™ Processors and Radeon™ Graphics for mobile. All this performance is enabled by a suite of major Alienware Cryo-tech™ advancements.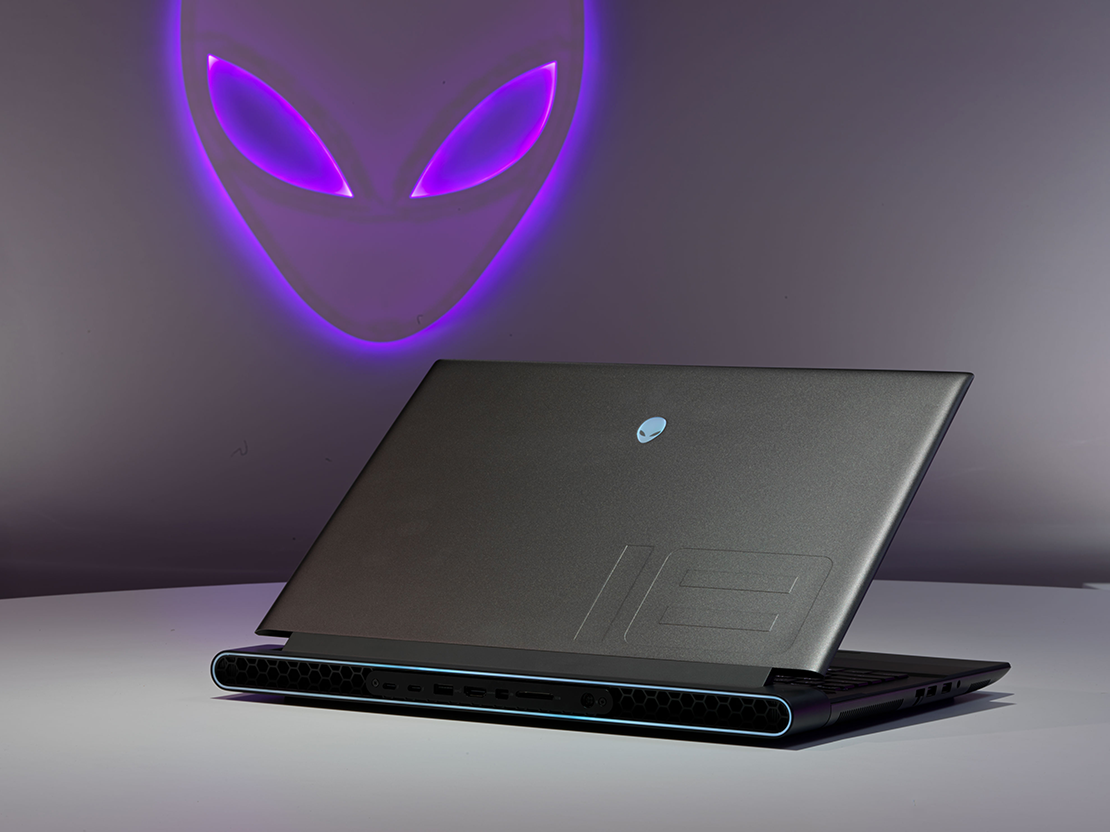 Here are the most notable thermal improvements made to the new Alienware m18:
These significant improvements to platform thermal capacity (~35% using Full Speed mode[vii]) and cooling pave the way for higher-performance CPUs and GPUs, allowing us to push the total system power to 240W[viii].
Impressively, m18 maintains the same peak thickness (Z-height) as m17, while giving gaming enthusiasts 14% more room on-screen[ix], providing enough space for a full-sized keyboard and number pad with optional CHERRY MX mechanical keys, plus dual user-replaceable DDR5 SO-DIMM slots and unprecedented storage capacity… now up to 9TB of total storage! Available panel options include either 165Hz QHD or 480Hz FHD displays with Dynamic Display Switching technology, and G-SYNC and FreeSync support. All fortified by structural improvements inside and out that enable a stronger, more rigid chassis —meeting the robust build quality Alienware customers expect.
For gamers seeking a slightly more compact powerhouse, the m16 provides many of the same technologies, ergonomics, design qualities and experiential benefits as the m18.
m18 Fact Sheet & Spec Sheet | m16 Fact Sheet & Spec Sheet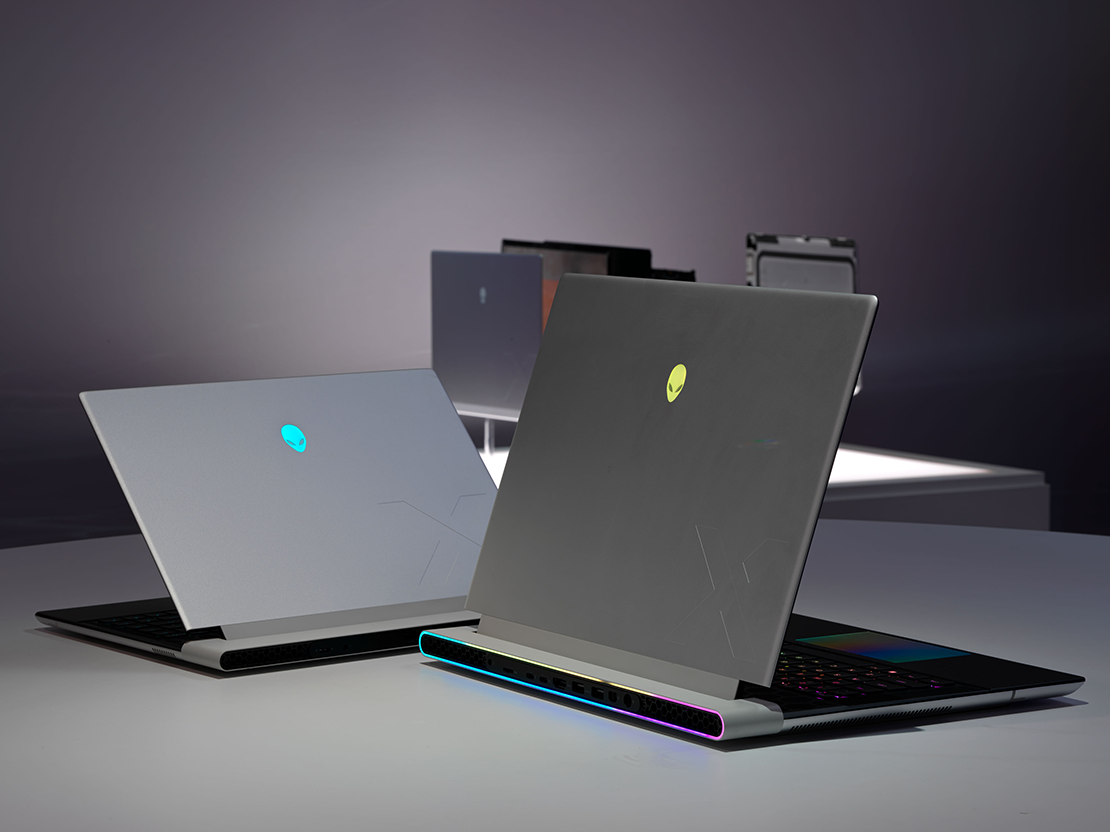 Introducing the most luxurious Alienware yet, the first-ever x16
X Series laptops are designed for gamers who expect their Alienware laptop to compliment every aspect of their lifestyle, including beyond gaming. They want a more portable companion that can be taken with them wherever life leads yet demand supreme performance to match. To address both of these needs, we pull deeper from engineering's bag of tricks to architect the most aggressive designs possible. As our flagship brand, X Series serves as our innovation portal, bringing many technology breakthroughs in addition to elevating premium materials, finishes and features to the forefront of the product experience.
The new Alienware x16 is our first 16" gaming laptop since 2004 and our most premium Alienware product yet. It answers the debate on whether to buy a 15-inch or 17-inch gaming laptop by pinpointing a sweet spot between both sizes. Promising more performance, a taller 16:10 display and an improved six-speaker design, the new x16 bests our current x17 in almost every way and does so in a sleeker and more robust full-metal chassis. Everything you hear, see and feel is on another level.
Built with top-firing tweeters for clarity and a dual woofer configuration for strong bass, x16 creates a spatial audio experience with its 6-speaker audio. With Dolby Atmos, you will experience rich, layered sound that reveals depth, clarity, and details like never before, bringing your entertainment to life.
Complimented by our best AlienFX experience, x16 now boasts 100 micro-LEDs (touting 50 individual lighting zones!) on the rear stadium and is the first Alienware laptop enhanced with new AlienFX Scanner, Loop and Rainbow lighting mods. Additionally, our illuminated RGB touchpad is now 15% larger (than the one found on the x17 R2). Finally, we continue to offer per-key RGB keyboard lighting with optional CHERRY MX mechanical keys to complete our most dynamic and customizable lighting experience to date, all controllable via Alienware Command Center.
It features the latest technologies including 13th Gen Intel Core HX processors, up-to NVIDIA® GeForce RTX™ 4090 Laptop GPUs  and next-gen AMD technology for mobile.
The world's thinnest 14" gaming laptop, the x14[x], was first introduced last year at CES 2022, and now our refreshed x14 R2 sports an impressive new display panel that delivers more visual real estate and heightens resolution with 97% more pixels than before[xi]. You can also charge more ways than one with the included Type-C USB charging. A new, two-fan design increases cooling performance with the option to add the Cryo-tech cooling design and Element 31 thermal interface[xii].
x16 Fact Sheet & Spec Sheet | x14 Fact Sheet & Spec Sheet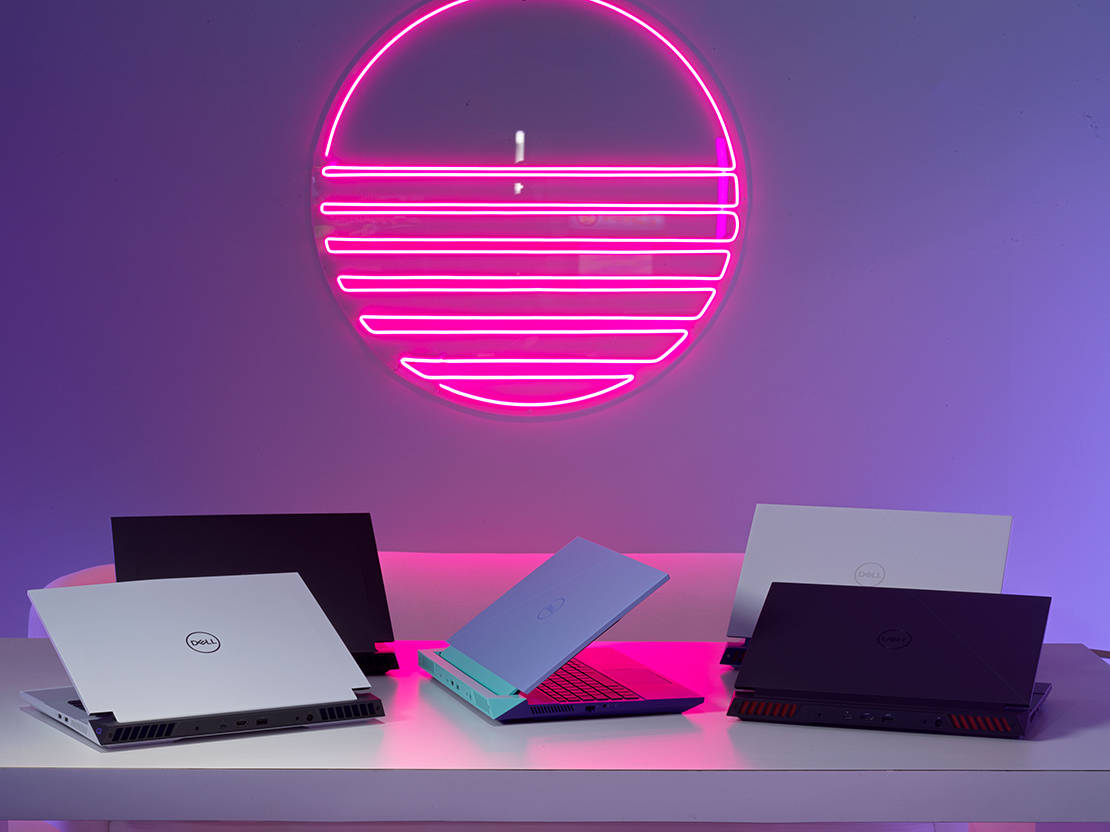 G Series unveils stylish new design with G16 and G15
Dell's new G16 and G15 gaming laptops are grounded in reliability and simplicity at approachable price points, featuring youthful and fun aesthetics with performance to match.
We've taken a bold new design approach with the G15 and G16, which are available in eye-catching colorways, with retro pops of orange and blue set against premium metallics, that are sure to be coveted by those with an appreciation for '80s pop aesthetics. Both feature our G-mode key, exclusive gaming function macro keys, and toggle audio keys to enhance the player experience. G15 offers one-zone and four-zone RGB keyboard options with numpad, while G16 offers one-zone RGB and Cherry MX keyboard options to fit your style.​
Looking under the hood, G15 and G16 supports graphic-intensive games with ease and consistency, even in marathon sessions, powered by the latest Intel, AMD and NVIDIA technology to help you get lost in your favorite games. And for the first time, G Series receives Alienware inspired Vapor Chamber Cooling and Element 31 thermal interface[xiii].
Both devices are equipped with the newly enhanced Alienware Command Center for the ultimate in-player customization.
G15 Fact Sheet & Spec Sheet | G16 Fact Sheet & Spec Sheet
A single interface to rule them all, welcome the re-engineered Alienware Command Center
The redesigned Alienware Command Center (AWCC) is launching with all these new Alienware and G Series gaming laptops[xiv], bringing the ultimate customization and convenience to your fingertips.
A quick refresher on Alienware Command Center: the dashboard creates a centralized location to quickly access settings such as game-specific profiles and themes, lighting, macros, audio and overclocking—all things that are critical to your gaming experience.
The redesigned AWCC isn't just software updates and enhancements to the prior version. It is a new architecture – built from the group up – featuring a new, intuitive and dynamic user design. This not only makes AWCC easier to navigate and update, but it makes you a better gamer. Take our new performance overlay as an example: you can now see your performance while gaming.
Alienware Command Center Fact Sheet & Spec Sheet
For more information
To learn more about these new products, you can check out the complete press kit here.
Target Pricing & Availability
**Select high-end configurations will be available at launch, with additional configurations becoming available at a later date(s). For more specific details, check out our target pricing and availability guide here.
Coming soon this Winter
Alienware m18** will first launch with high-end configs starting at ~$2,899 (US), ~$3,899 (CA); additional configs will arrive later with the entry model starting at ~$2,099 (US), ~$2,849 (CA)
Alienware m16** will first launch with high-end configs starting ~$2,599 (US), ~$3,599 (CA); additional configs will arrive later with the entry model starting at ~$1,899 (US) , ~$2,599 (CA)
Alienware x16** will first launch with high-end configs starting ~$3,099 (US), ~$4,199 (CA); additional configs will arrive later with the entry model starting at ~$2,149 (US) , ~$2,899 (CA)
Alienware x14 will start at ~$1,799 (US), $2,449 (CA).
Coming soon this Spring
Dell G15 will start at ~$849 (US), $1,149 (CA)
Dell G16 will start at ~$1,499 (US), $1,999 (CA)
---
[i] Application of Element 31 varies by configuration and from platform to platform.
[ii] Based on internal testing, November 2022. Actual results may vary.
[iii] Application of Element 31 varies by configuration and from platform to platform.
[iv] Based on internal testing, November 2022. Actual results may vary.
[v] Based on internal testing, November 2022. Actual results may vary.
[vi] Based on internal testing, November 2022. Actual results may vary.
[vii] Based on internal testing, November 2022. Actual results may vary.
[viii] Based on internal testing, November 2022. Actual results may vary.
[ix] Based on internal testing, November 2022. Actual results may vary.
[x] Based on internal Dell analysis, December 2022.
[xi] Based on internal analysis, December 2022.
[xii] Application of Element 31 varies by configuration and from platform to platform.
[xiii] Application of Element 31 varies by configuration and from platform to platform.
[xiv] New Alienware m16, m18 and x16 systems may arrive with AWCC 5.5 but will automatically update to version 6.0 when available. Any profiles created in AWCC 5.5 will not migrate to 6.0. If you defer the automatic update, please follow manual instructions for updating to AWCC on Dell.com Stay tuned for more updates on when AWCC 6.0 will become available.