Test your skills across different game genres in a 6-week qualifier format to earn a spot in the Finals.
In the 2021 Alienware Games, each game (League of Legends, Fortnite, Valorant, and Rainbow Six Siege) is set up as its own week-long contest. Each week begins on a Friday and ends on the following Thursday (7 Days).
As you complete challenges in each of the games, you'll earn points that count towards that game's specific weekly leaderboard. At the end of each week, the leaderboards will be reset back to zero, and the top gamer from each week in each game will secure a spot in the Semi-Finals to compete for the grand prize.
The qualifiers will run for 6 consecutive weeks with 24 players (6 from each game) earning a spot in the Semi-Finals. Additionally, two Wild Card players will be selected from each game, bringing the total number of qualifying Semi-Finalists to 32. All 32 Finalists will receive a free Alienware PC.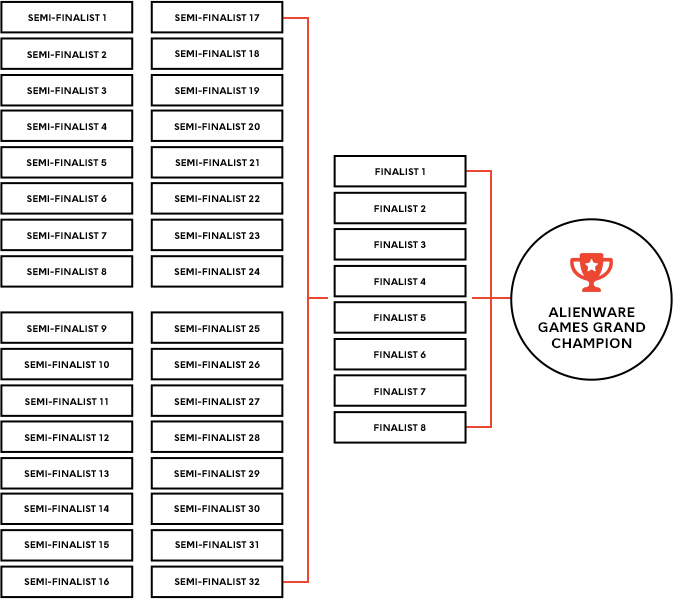 The Finale
To earn a spot in the Finals, the 32 original Qualifiers will first compete in the Semi-Finals, a multiday playoff beginning on October 15. The 32 participants will be randomly placed into four groups of eight where they will battle to become one of the eight Finalists.
Each of these groups will compete in its own mini-tournament featuring the same four games; League of Legends, Fortnite, Rainbow Six Siege and VALORANT. Each game will have its own unique set of win conditions, with the top 2 players from each group moving on to the Finals.
These eight Finalists will again be pitted against each other using the same format and scoring structure to determine their final placement for grand prizing. The 2021 Alienware Games Grand Champion will win a total of $15,000 in winnings and bragging rights until next year's tournament.
Finale Structure
Valorant:
Deathmatch - 8 player free-for-all
Highest aggregate scores over 5 games
Scores in each game depend on placement and Kills/Deaths
Fortnite:
5-10 rounds of Free-for-all on custom map. Placement in each round awards points. Points are added up from all rounds.
League of Legends:
1 vs. 1 Bracket, random seating
Official Riot Global rules for 1 vs. 1 rounds

Howling Abyss map with either of 3 win conditions:

(1) First Blood, (2) First Tower, (3) First to 100CS

3 champion bans per player
Best of 3 each round, blind draft
Rainbow 6 Siege:
1 vs. 1 Bracket, Customs, Search & Destroy
Post Finale Party Game
Following the Finale the top 8 participants will compete in a party game for a chance to win an additional $1,500.