Alienware's x15 and x17 gaming laptops challenge physics with high-density performance
By: Chris Angelini
Sponsored by Alienware

Alienware has a storied history of building innovative laptops with a common thread woven through each of its projects: a fanatical dedication to performance and a penchant for turning heads. The Alienware x15 and x17 elevate those passions with equal parts blazing speed and impossibly compact dimensions. The DNA they share is borne of hardcore engineering across multiple disciplines, culminating in a platform that's primed to tear through today's most demanding games.
Both notebooks incorporate the very latest components. We're talking 11th-generation Intel Core CPUs, NVIDIA GeForce RTX 3000-series GPUs, up to 64GB of DDR4-3400 memory (on the x17), and room for multiple PCIe 4.0-based SSDs. Alienware packs all that computing horsepower into its thinnest form factors ever. Of course, shrinking everything down complicates the science of cooling immensely. But Dell's engineers embraced the challenge and started looking for ways to build faster, denser mobile platforms.
Where did they start? What obstacles did they have to overcome along the way? In this first of a four-part series, we're going to give you a VIP, behind-the-scenes look at how Alienware created its most ambitious laptop platforms to date.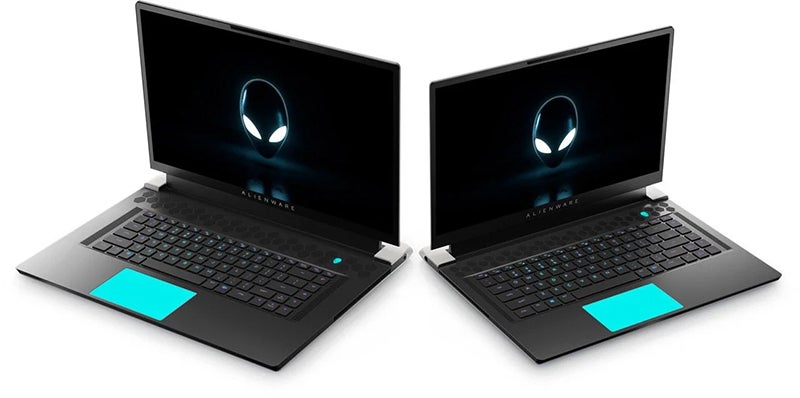 Building a thing of beauty: Alienware's x15 and x17 laptops deliver exceptional gaming performance through some of the company's most aggressive engineering innovations.
The x15 and x17 use the same high-density interconnect technology found in cell phones
Under layers of stain-resistant paint and magnesium alloy panels, the x15 features a motherboard carefully engineered for density. Up close, it resembles a small city, bustling with hubs, controllers, slots, ports, and headers—all the hardware you'd find in a full-sized desktop PC, connected by thousands of traces across the circuit board's surface.
But while most desktop motherboards adhere to standards that dictate how large they can be or what features fit on them, laptops are bespoke. Alienware was free to throw all the weight of its engineering team at optimizing the x15. The tighter they could situate this platform's panoply of parts, the smaller its motherboard could be, opening room for the revolutionary cooling concepts needed to get fresh air in and warm air out. More on those later.
One of the team's quickest wins was to make heavy use of something called high-density interconnect (HDI) technology. In an HDI-based design, electrical signals are routed between printed circuit board (PCB) layers through vias, or pathways. The tiny amount of space used by these tunnels makes them far more efficient for mounting components compared to the larger holes found on traditional PCBs.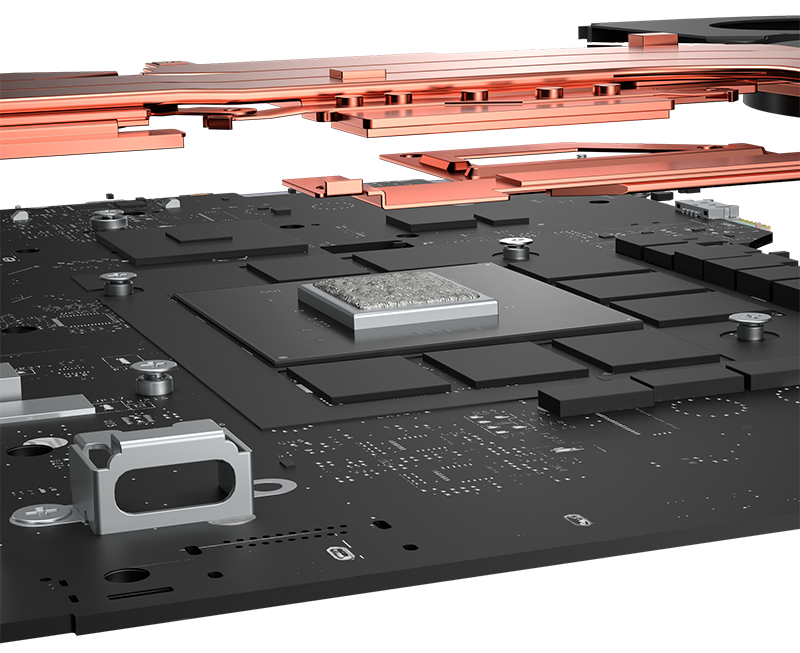 High-density interconnects facilitate an incredibly clean motherboard layout, with processors, memory, and voltage regulation packed tightly.
As you might imagine, HDI technology is mandatory in the cell phone world, regardless of how much complexity the technique adds. And while it's an expensive luxury in the laptop space, Alienware wanted to get aggressive in its approach to utilizing high-density interconnects across the x15's 12-layer motherboard. The effort (and expense) paid off. HDI technology made it possible to squeeze in a longer list of features and more powerful gaming hardware across less circuit board surface area than any of Alienware's prior products.
Motherboard layout matters: Alienware's x15 innovates with a patent-pending CPU orientation
Broadly, HDI technology gave Alienware more freedom to fine tune component layout on the x15. But there were certain board-level optimizations that moved the needle more than others. For example, the engineering team was able to rotate Intel's 11th-gen Core CPU 90 degrees relative to Dell's other platforms. By shifting the rectangular processor package's orientation, they could build a narrower motherboard, which led to a cascade of other benefits: room for larger fans, better heat pipe routing, and clearance for taller, more efficient voltage regulators. Sounds like a simple and obvious transplant, right? Not quite.
Moving a large chip with more than 1,700 solder balls affects the layout of almost every subsystem around it. Memory, graphics, USB—they're all sensitive to the time (and power) it takes to drive data in and out of the CPU. The achievement was significant enough that it's now patent-pending.
Just how tightly was Alienware able to pack components around Intel's processor? A top-down look at the x15's motherboard shows the system's DDR4-3200 memory mere millimeters away.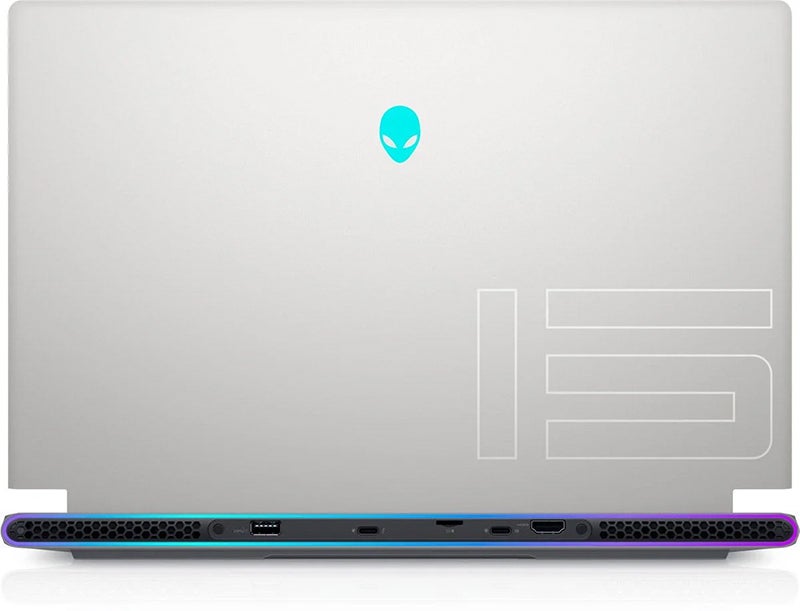 The x15's rear I/O is exposed through nested daughtercards, which fit precisely around other motherboard-mounted components
Alienware's engineers even optimized the x15's motherboard three-dimensionally. See how the USB, Thunderbolt, HDMI, and microSD interfaces are embedded into the rear panel at different heights? That's because the I/O is built onto nested daughtercards that dovetail for just the right fitment. Underneath the microSD card reader is a densely packed, high-power GPU voltage regulator, which Alienware calls its HyperEfficient Voltage Regulation circuit. And the Type-A USB 3.2 Gen 2 port is sandwiched between the lighting and a CPU power controller on a custom connector. The layout couldn't be any cleaner.
Alienware's x17 makes room for higher-end hardware and extra features
The x17's wider form factor opens the door to a handful of luxuries usually reserved for larger laptops. It's deep enough to support Alienware's new ultra-low-profile mechanical keyboard with Cherry MX switches, for instance. Based on feedback from the enthusiast community, Dell's engineers also prioritized upgradeable memory modules with a pair of SO-DIMM slots1. And of course, the x17 includes its own generous list of inputs and outputs enabled by nested daughtercards. There's an Ethernet jack with 2.5 Gb/s Killer E3100 networking technology, two USB 3.2 Gen 1 ports with PowerShare, one USB 3.2 Gen 2 port with DisplayPort and Power Delivery, one universal audio jack, one Mini DisplayPort, one Thunderbolt 4 port with Power Delivery, and one microSD card reader.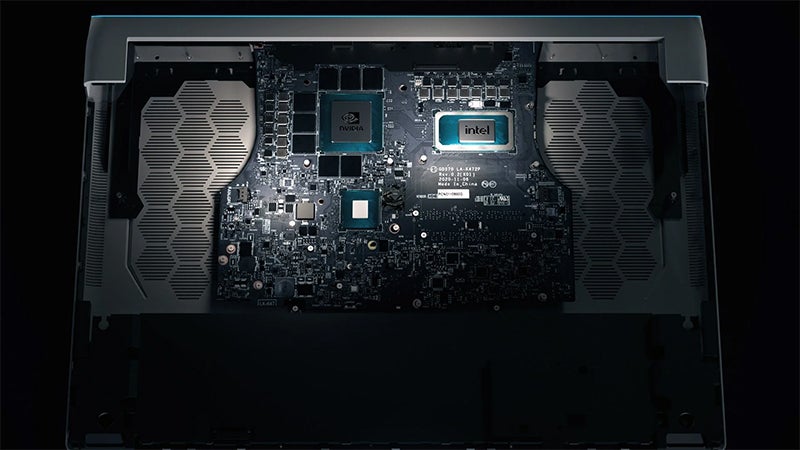 A dense layout makes room for the x17's 12-phase graphics voltage regulator module, six-phase CPU voltage regulator module, and upgradeable SO-DIMM slots.
Although the largest x17 configuration measures just 0.84"-thick, it has enough room for a vapor chamber plate that sits on top of the system's 11th-gen Core processor. Water sealed into the chamber gives this plate more heat capacity than a standard sink. In turn, thermal energy is shuttled away from the CPU quickly, allowing the chip to maintain aggressive Turbo Boost clock rates during bursty computing tasks. In fact, the x17's CPU cooling and power delivery are so effective that Alienware can offer Intel's Core i9-11980HK with headroom to spare for overclocking. Right out of the box, the eight-core, 65-watt chip hits frequencies as high as 5GHz. Alienware's Command Center software adds a set of sliders for pushing performance even further.
Some of the acoustic magic that Alienware conjured up can be attributed to optimized airflow through the x17's chassis. Fresh air is pulled in through a venting structure specifically tuned to minimize impedance. In other words, air flows more freely. From there, 95-millimeter dual-outlet fans over Intel's CPU and NVIDIA's GPU exhaust out the back and sides. A patented dual opposite outlet fan closer to the front edge blows across the M.2 slots and out the other side, positively pressurizing the system to help cool its palm rests and other skin surfaces.
All those cooling innovations fall under the Cryo-Tech umbrella, which is Alienware's electrical and mechanical engineering approach to maintaining stability under load. In our next blog post, we'll drill down on the multiple components of Cryo-Tech, including the quad-fan design, Alienware's exclusive gallium-silicone interface material (Element 31), tailored power states, and the Thermal Control Circuit Offset feature.

---
[1]. Supported memory configurations include:
16GB, 2 x 8GB, 3200 MHz, dual-channel DDR4
32GB, 2 x 16GB, 3200 MHz, dual-channel DDR4
32GB, 2 x 16GB, 3466 MHz, dual-channel DDR4, XMP
64GB, 2 x 32GB, 3466 MHz, dual-channel DDR4, XMP