By: Chris Angelini
Sponsored by Alienware
This is a big moment in Alienware's history. Before now, the brand's last laptop with an AMD processor and NVIDIA GPU shipped back in 2007. And that thing was a an almost 17-pound monster with a 19" display.
So very much has changed since then. Most notably, AMD's mobile processor portfolio is stronger than ever.
The M15 Ryzen Edition R5 is Alienware's answer to enthusiasts who've asked for the latest AMD CPUs paired with NVIDIA graphics in a premium package.
Alienware went all-in for such a momentous occasion. This is the first product to showcase the company's updated Legend 2.0 industrial design. It's the first 15" Alienware notebook with a 360Hz FHD panel option, the first with a 240Hz QHD option, and the first to come standard with a 165Hz FHD display. Alienware says this is its first 15" model with DDR4-3200 memory. And it's also the first laptop available with Alienware's small form factor 240W AC adapter as an add-on.
That list doesn't even touch the hardware options that have me most interested in the M15 R5's performance potential. So, let's jump right into the specifics of Alienware's first platform combining an AMD CPU and NVIDIA graphics in 14 years.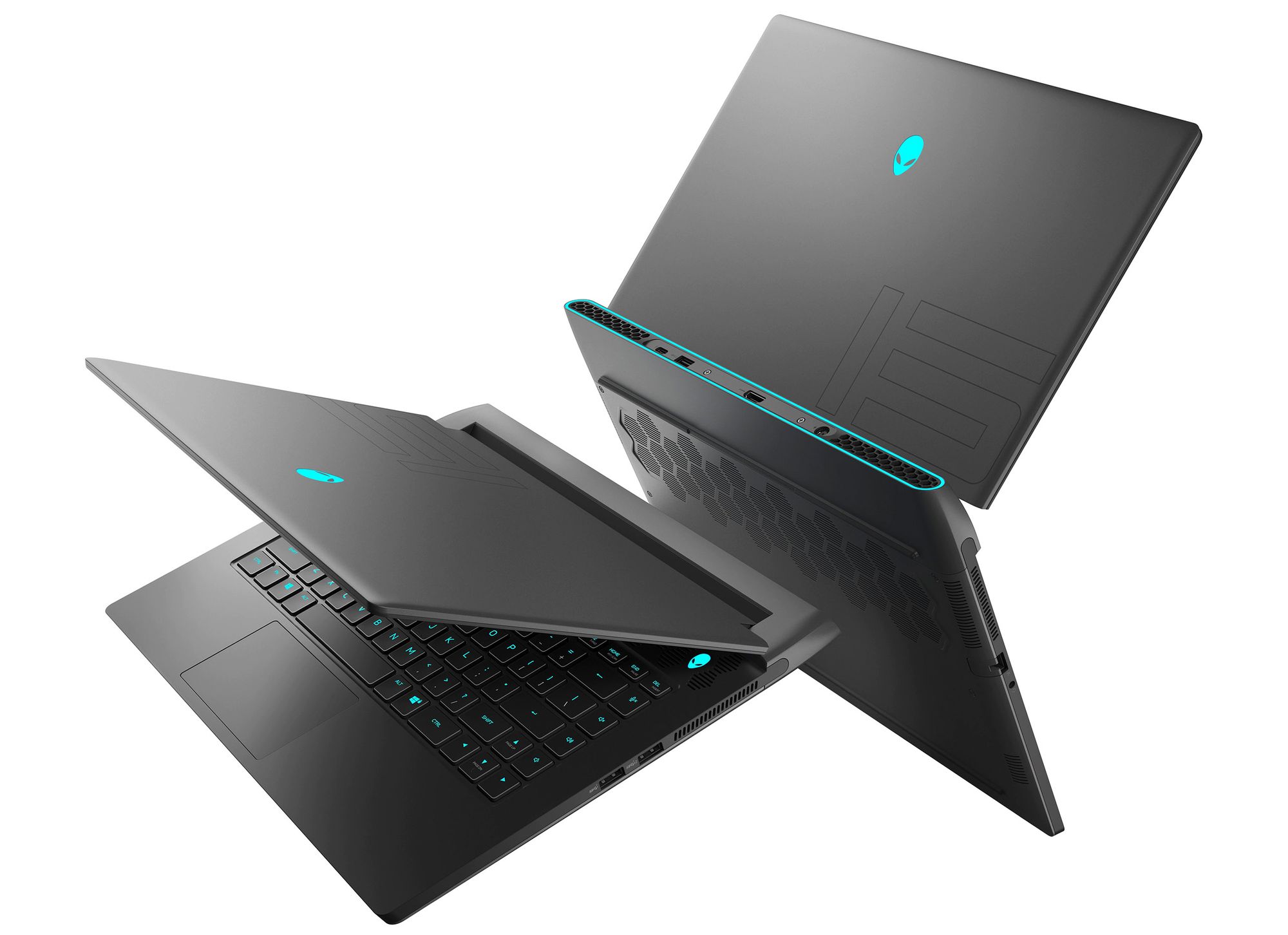 Meet AMD's Zen 3-based Ryzen CPUs
The M15 Ryzen Edition R5's centerpiece is its marriage of AMD host processing and an NVIDIA GPU. Alienware offers Ryzen 7 5800H and Ryzen 9 5900HX CPUs, along with GeForce RTX 3060 6GB and GeForce RTX 3070 8GB graphics options.
Both CPUs are true eight-core models able to work on 16 threads concurrently. They're based on AMD's newest Zen 3 architecture and manufactured using TSMC's 7nm FinFET process. All the great things you've heard about AMD's performance gains on the desktop apply here as well. These are truly bleeding-edge chips.
Frankly, differences between the Ryzen 7 5800H and Ryzen 9 5900HX are minor. The latter reaches a maximum boost clock rate of 4.6GHz in single-threaded tasks, while the former tops out at 4.4GHz. The Ryzen 9's integrated Radeon graphics engine gets a 100MHz frequency advantage as well.
In either case, AMD specifies a 45W thermal design power rating, though you'll notice the CPUs exceeding that number when headroom allows. The chart below illustrates the Ryzen 7 5800H's behavior through a Blender CPU render test. The red line tracks CPU package power with the laptop plugged in, while the blue line shows the system running on battery power.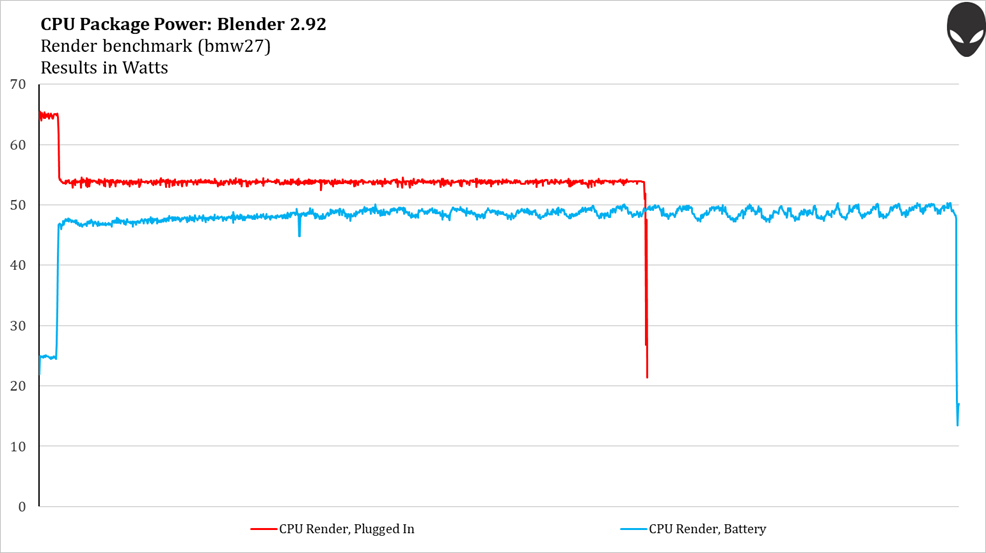 The M15 R5's Cryo-Tech Cooling solution keeps the CPU running at low-enough temperatures to maintain nearly 3.6GHz on AC power and more than 3.4GHz from the battery. Load-balancing heat pipes spread thermal energy across a system designed to dissipate 160W. As a result, the fans don't have to work very hard, despite this task's demanding nature.
Choose between two high-end graphics options
AMD's CPUs are complemented by some of NVIDIA's fastest mobile GPUs, including the GeForce RTX 3060 with 6GB of GDDR6 memory and GeForce RTX 3070 graphics with 8GB of GDDR6.
Here's where the shared Cryo-Tech Cooling design shows its mettle. Both graphics subsystems have 115W power ratings. According to Dell, they're specifically optimized for performance over laptop thickness or battery life. Both GPUs also support NVIDIA's Dynamic Boost 2.0 technology, allowing them to "borrow" thermal headroom from the CPU in games and other graphics-intensive situations. This gives the GPUs an extra 10W to drive higher clock rates.
The allocation makes no difference to Alienware's Cryo-Tech design. The M15 R5's array of copper composite pipes overlap both components, so their heat is dissipated through shared surfaces and exhausted by a pair of fans working cooperatively.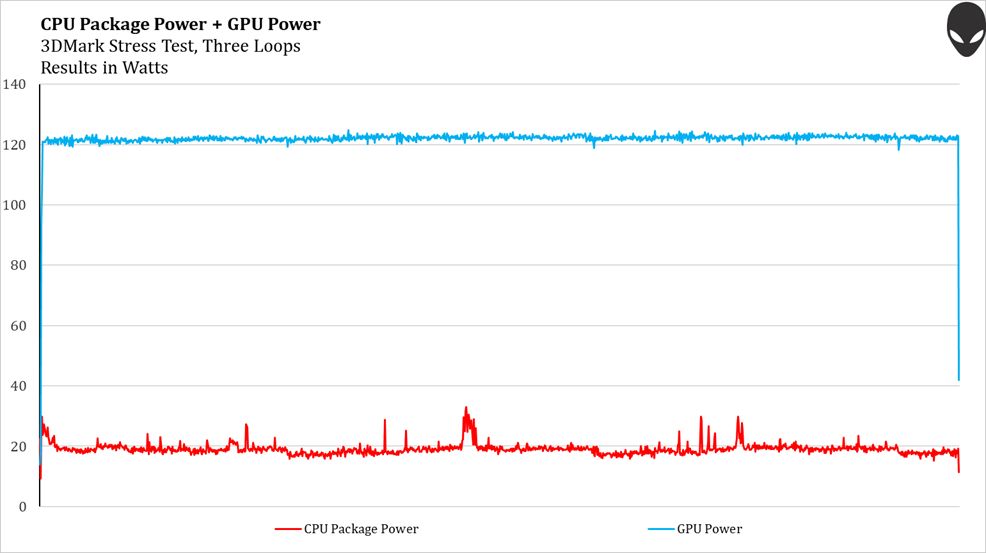 This chart shows CPU and GPU power through 3DMark's Time Spy stress test. The CPU doesn't have to work especially hard through this graphics-heavy task, so NVIDIA's GeForce RTX 3060 is allowed to use more than 123W. Even then, the pair stops short of the M15 R5's maximum power limit, demonstrating headroom to spare.
A display for every need
I'm a big proponent of building PCs with balance in mind. That means my graphics card and display choices are closely coupled to optimize performance without needlessly overspending. Dell's team was seemingly guided by the same principle, given the M15 R5's GPU and panel options.
The top-end configuration sports a GeForce RTX 3070 paired to a 15.6" FHD display with a 360Hz refresh rate. That's a killer combination for multiple reasons. First and foremost, this screen sets itself apart with Advanced Optimus support, allowing connection to the integrated Radeon engine and discrete GeForce chip over embedded DisplayPort. The Ryzen CPU's display controller handles graphics processing when you're browsing the web or responding to emails, extending battery life. Then, as soon as you fire up your favorite game, the GeForce takes over for maximum performance. As a side effect of connecting directly to NVIDIA's GPU, Advanced Optimus enables features like G-SYNC, which the 360Hz panel also supports.
I found myself perfectly happy with the entry-level panel's 1920x1080 native resolution and 165Hz refresh rate. All the AAA games I ran on it looked great with their quality settings cranked up.
You can also build your M15 Ryzen Edition R5 with a 2560x1440 panel that refreshes at 240Hz. Alienware wisely mates it to the GeForce RTX 3070 graphics option, which has the extra memory to support demanding quality settings at a higher native resolution. Like the 360Hz FHD screen, this one similarly supports G-SYNC and Advanced Optimus.
Making the most of memory
The configurations available on Dell's site include either 16GB or 32GB of DDR4 memory operating at 3200 MT/s across two channels. Dual modules feed AMD's Ryzen processor a theoretical peak of 51.2 GB/s.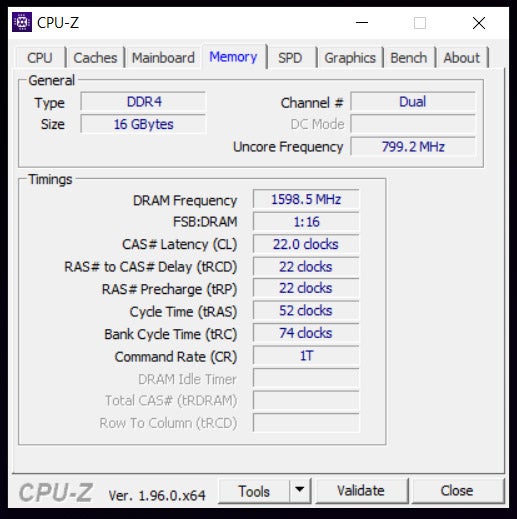 Alienware uses DDR4-3200 at both capacity points, so you get the same memory performance either way.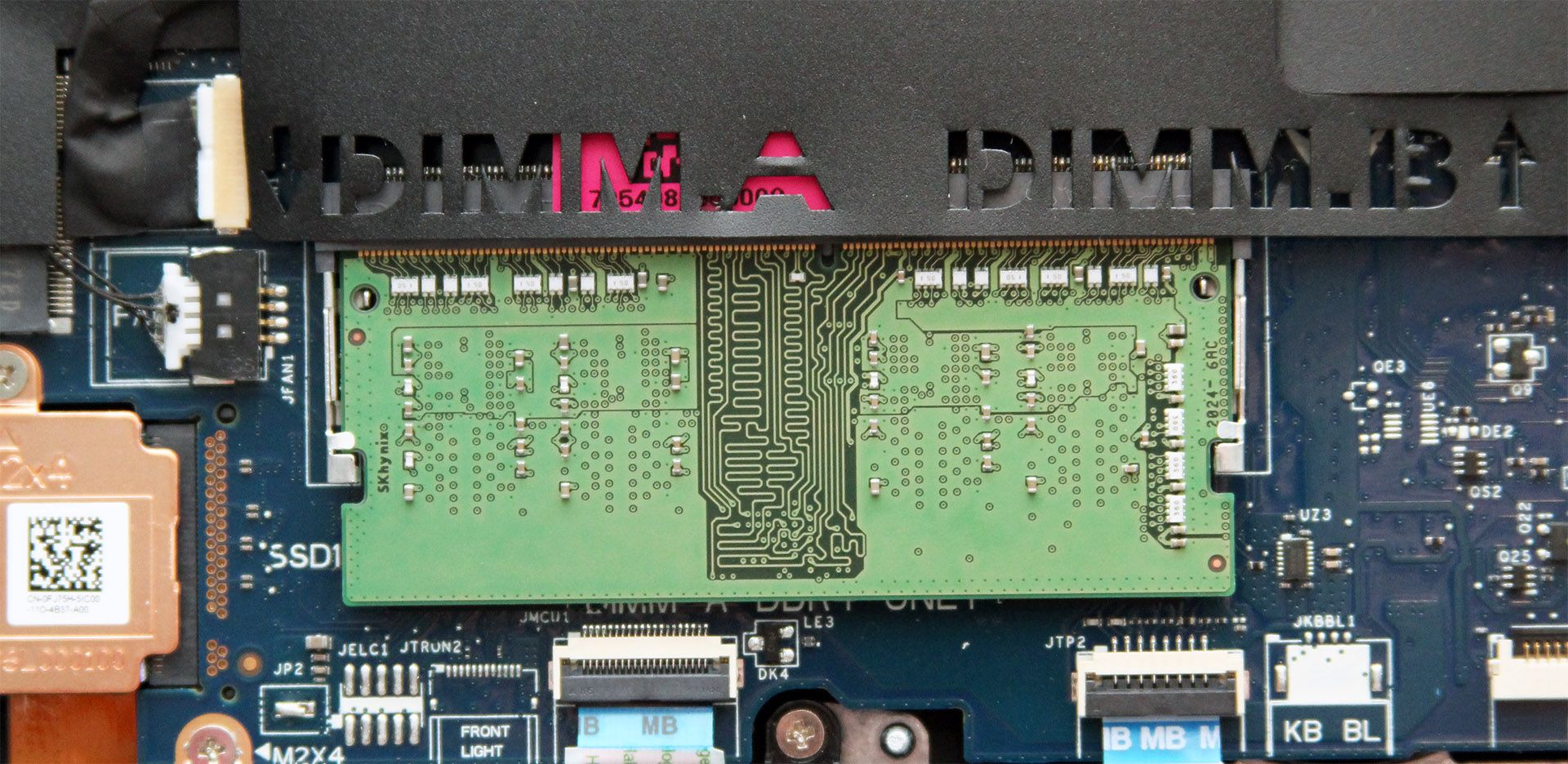 I believe 16GB is this platform's sweet spot. But if you find yourself faced with a workload that warrants an upgrade, you'll be glad for the M15 R5's two SO-DIMM slots. It took me about five minutes to remove the laptop's bottom cover, unclip the 8GB modules in my sample, and pop in a pair of 16GB replacements. In benchmarks like the 7-Zip compression test or y-cruncher's multi-threaded metric, the performance benefit of 32GB over 16GB is significant.
Storage: There's always room for more!
Upgradeability is a key tenet of the M15 R5's storage story, too. My sample came with a 256GB BC711 PCI Express-based SSD from SK hynix. You'll also find a couple of configurations with a 512GB SSD. As an enthusiast, neither of those is sufficient to house the handful of games I like to play. Fortunately, Alienware also sells this system with 1TB SSDs.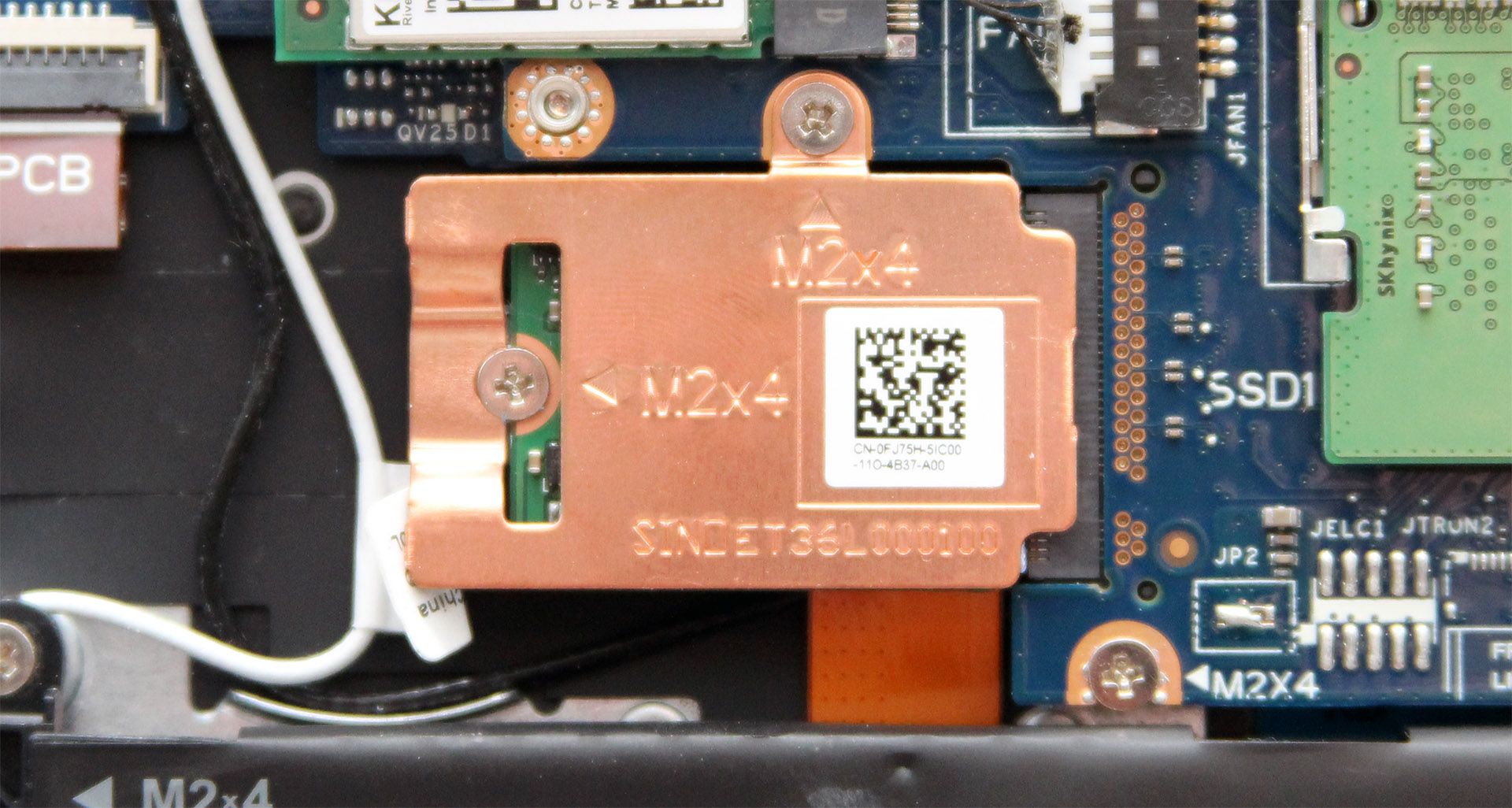 A second M.2 slot on the motherboard's right side doubles this platform's maximum storage capacity. Between them, the M15 Ryzen Edition R5 supports up to 4TB of solid-state storage.
I needed a lot more space for my 12-game benchmark suite, so, just to show it could be done, I added my own 1TB drive. This platform supports M.2 2230 and M.2 2280 SSD form factors through a moveable screw mount, making upgrades a piece of cake.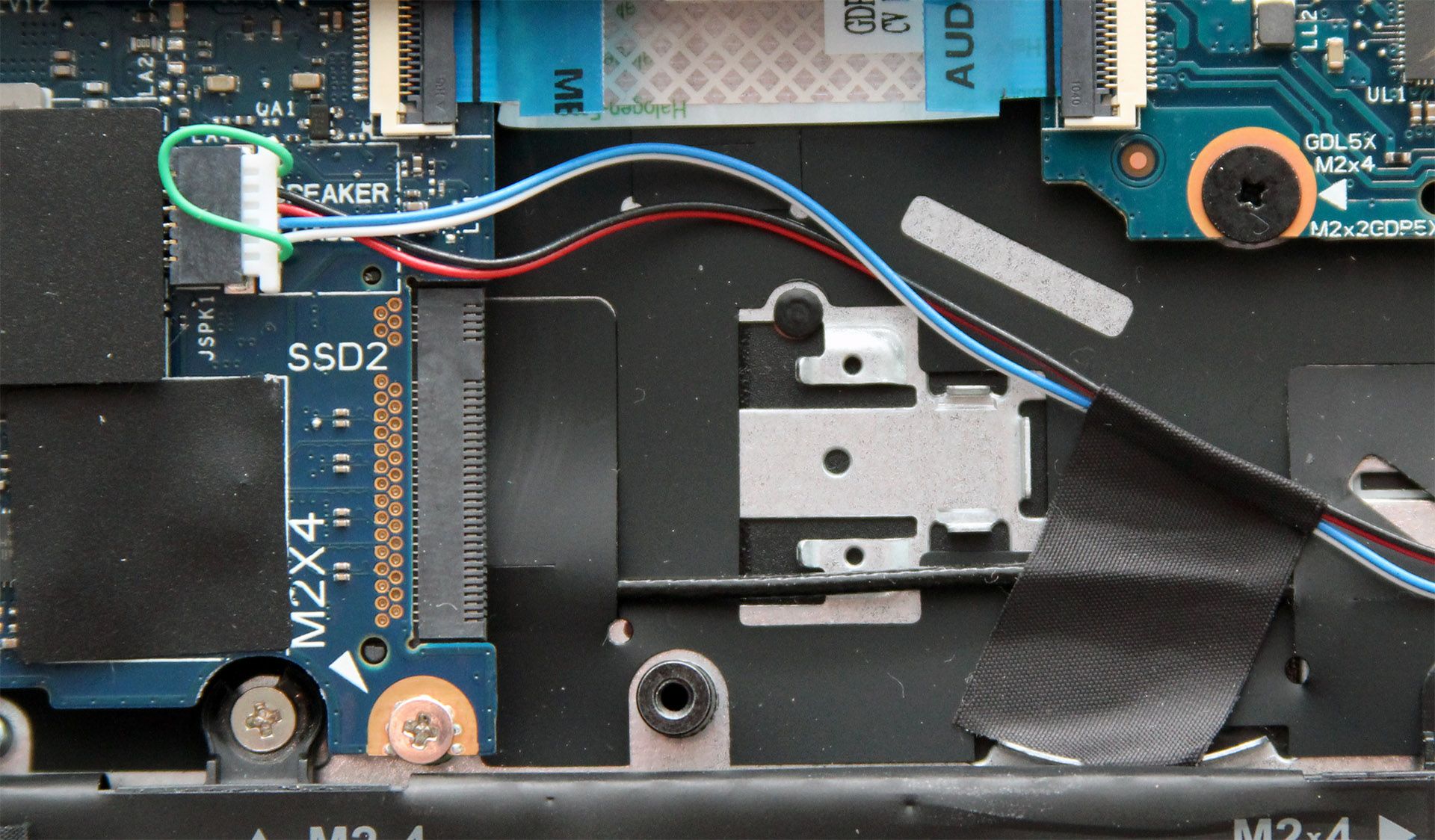 Never have I ever: appreciated a keyboard this much
Like most hardware enthusiasts who grew up gunning for big overclocks on inexpensive CPUs, I have a keen eye for value. So, when details of Alienware's M15 R5 and Dell's G15 5515 surfaced around the same time—both laptops powered by AMD CPUs and NVIDIA graphics—I quickly guessed that the G15 would be a win looking for amazing performance at a bargain price. But the G15 is missing one option that I didn't expect to fall in love with: the M15 R5's mechanical keyboard equipped with Cherry MX Ultra Low Profile switches.
This is, without question, an option worth adding to your M15 Ryzen Edition R5.
I can tolerate almost any laptop keyboard for jotting down notes during a press briefing or responding to emails from a hotel room. But if I want to game with proficiency, I plug in a known quantity: a USB keyboard. The M15 R5's mechanical switches change that. They actuate predictably, with a clean click, and then spring right back up. Their 1.8mm of key travel is uniform, regardless of where you press on the key. There is no side-to-side wobble.
Of course, the mechanical keyboard offers per-key AlienFX lighting you can configure through Alienware Command Center.
I/O: Making the right connections
The M15 R5's left and right sides are really pretty clean—slats for exhaust and sound take up more space than the laptop's I/O.

On the left, there is a 2.5 Gb/s Ethernet port, along with a 3.5mm global headset jack. Although this system's Killer Wi-Fi 6 AX1650 controller will undoubtedly see more use, I do applaud the inclusion of a high-speed option for wired connectivity.

The right side plays host to a couple of USB ports. One of them is standard Type-A USB 3.2 Gen 1 fare capable of speeds up to 5 Gb/s. The other is also Type-A USB 3.2 Gen 1, but it adds support for Dell's PowerShare 2 feature, which lets you charge USB-powered devices like cell phones when the M15 R5 is turned off.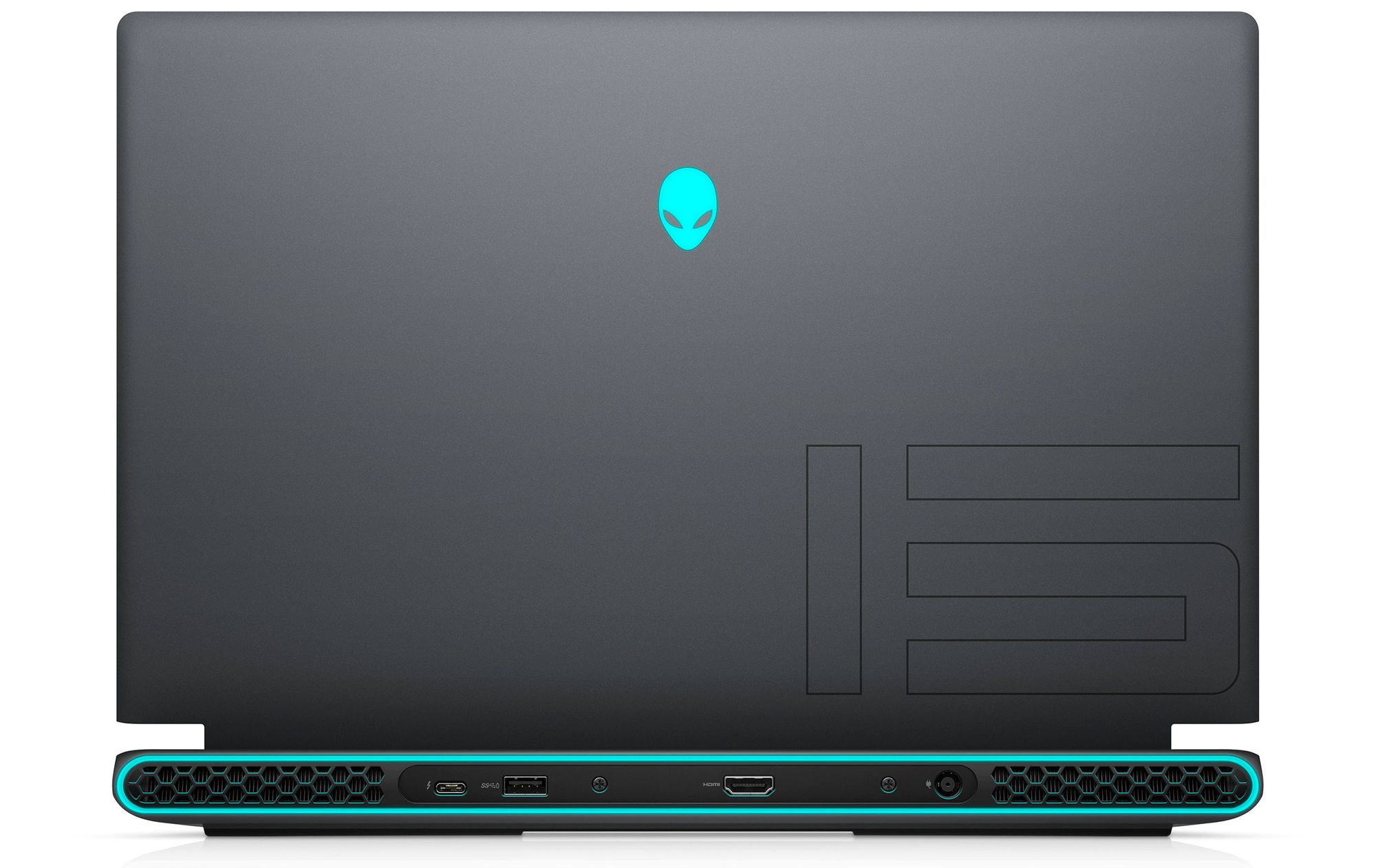 Around back, you'll find the DC power input, another Type-A USB 3.2 Gen 1 port, a Type-C USB 3.2 Gen 2 port with Power Delivery, and a full-sized HDMI 2.1 output. USB 3.2 Gen 2 boasts a peak data rate of 10 Gb/s, and the port's 3A/5V specification translates to 15W of charging power.
It's what's inside that counts (but good looks don't hurt)
Alienware calls the M15 R5's one and only color scheme Dark Side of the Moon. Some of the company's other laptops are also available in a brighter Lunar Light motif, but this is not one of them.
The M15 R5 is nevertheless handsome. Its chassis is covered with a high endurance clear coat specially formulated to resist stains. Of course, after a day of constant handling, you'll still find finger oils on the top lid and palm rest. But I had no problem wiping those surfaces clean with a damp rag.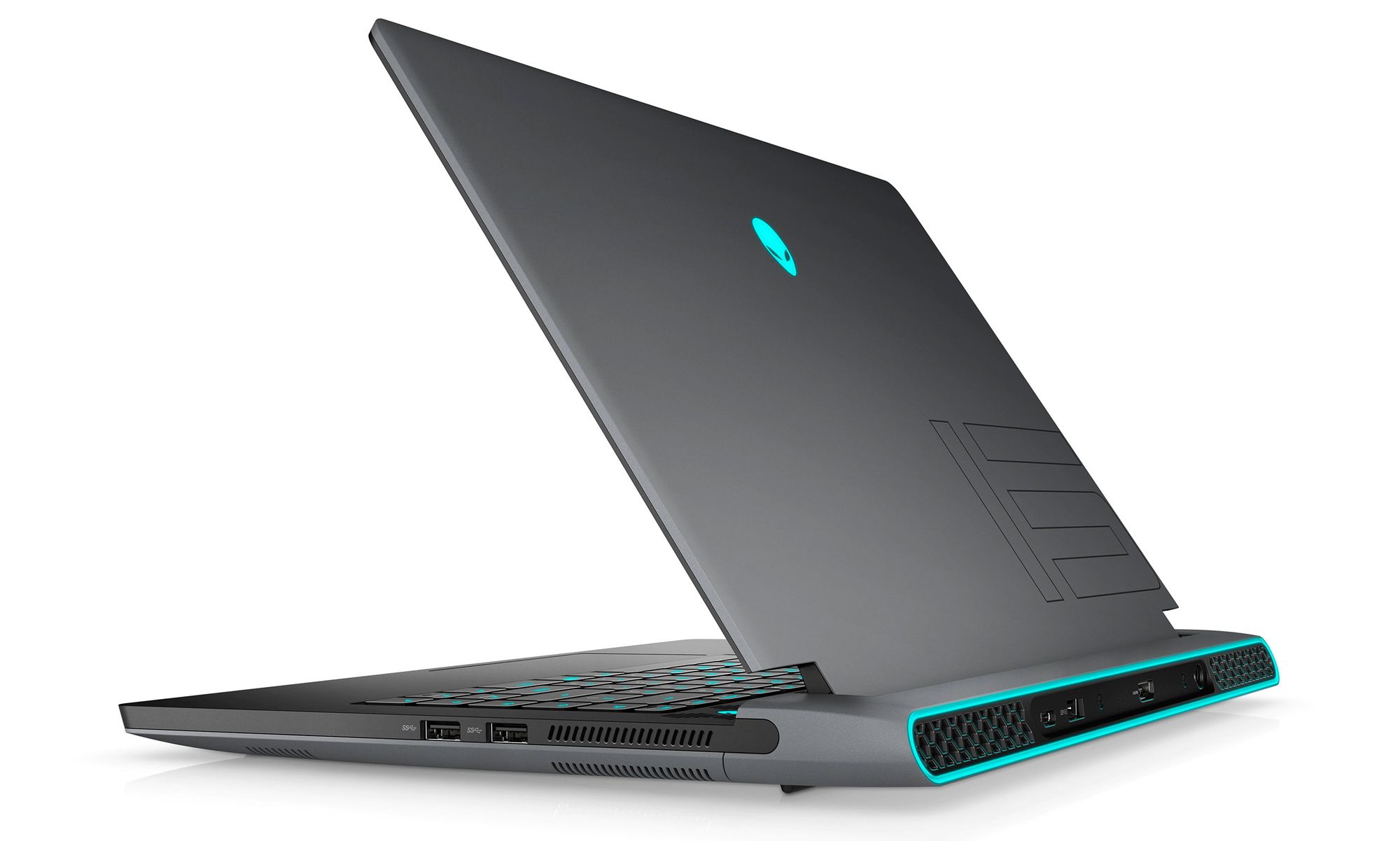 According to Dell, this is its first notebook based on the updated Legend 2.0 industrial design. That means the M15 R5 looks a bit different than the Intel-based M15 R4.
Notably, the M15 R5 features a distinct bone line—design parlance used in the automotive world to describe a shoulder or fender line that transitions from horizontal to vertical, running uninterrupted from the front to back. This gives the laptop a more curvaceous bottom half than the M15 R4. It isn't as angular.
The gap where the M15 R5's lid ends and its protruding rear begins is smaller, which, to me says tighter tolerances and better overall quality.
At first glance, Legend 2.0's rear deck looks similar to its predecessor. But the M15 R5 does have smaller rear vents than the M15 R4. The M15 R5's geometric elements should otherwise be very familiar to fans of Alienware's design work.
It's time to put rubber to the road
Remember, this is Alienware's first notebook with an AMD CPU and NVIDIA graphics since 2007. How does the combination fare 14 years later? In short, exceptionally well.
Across 10 popular games set to their highest detail settings, the M15 Ryzen Edition R5 averages more than 60 FPS, reaching all the way up to 154.6 FPS in Wolfenstein Youngblood.
Remember when I said I was perfectly happy with the entry-level panel's 165Hz refresh rate at 1920x1080? These numbers are why. If you're looking to enjoy AAA games using their best-looking quality presets, this combination gets the job done.
Stepping up to a GeForce RTX 3070, playing less demanding games, or simply dialing down quality for better performance in esports titles will drive higher frame rates. At that point, you'll want to consider the 360Hz FHD or 240Hz QHD panel options with G-SYNC and Advanced Optimus support.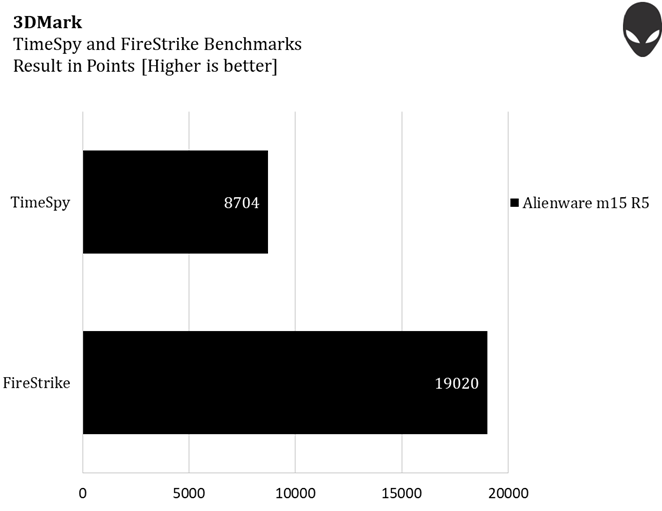 My 3DMark TimeSpy score lands within 1% of the average reported by UL's results database for Ryzen 7 5800H/GeForce RTX 3060-equipped laptops. If you'd like to compare your own hardware config to what I'm seeing, check out the Score Explorer here.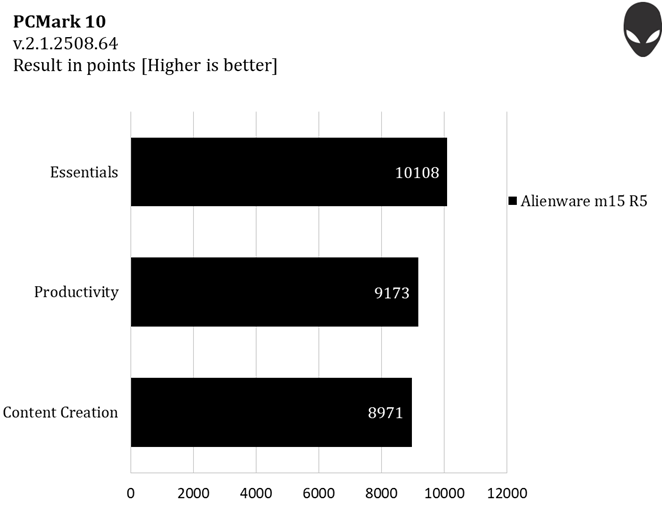 You can visit the same Score Explorer with a different filter to give my PCMark 10 results a little more context.
Compared to the average Ryzen 7 5800H/GeForce RTX 3060 platform, the M15 R5 scored 12% better in the Essentials test, 3% better in the Productivity suite, and 1% better in the Content Creation benchmark.
It's a little more difficult to derive meaning from real-world benchmark results without comparison data. However, the author of 7-Zip, a free and open-source file archive utility, says compression speed is largely dependent on memory latency, data cache size/speed, and the CPU translation lookaside buffer's performance. Decompression speed, on the other hand, is limited by the processor's ability to execute integer operations.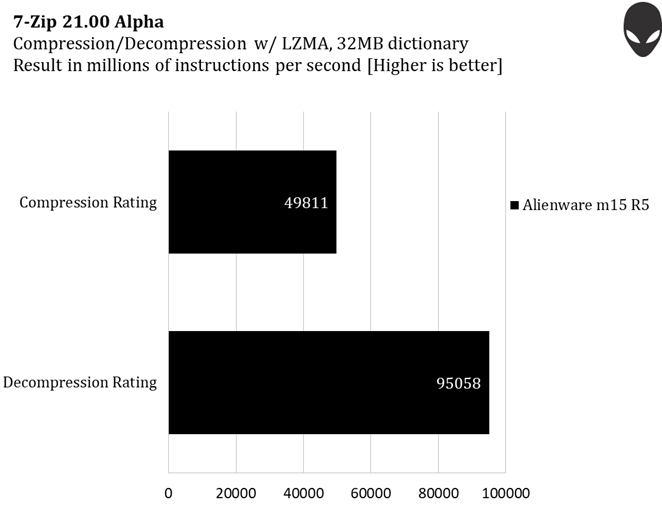 AMD put a big emphasis on better per-core performance with its Zen 3 architecture. As a result, the Ryzen 7 5800H really shines in benchmarks like the 7-Zip decompression test. Its eight cores crank out higher scores than I've seen from any mobile processor, ever.
The M15 R5's compression result appears lower. But remember that this number depends on different variables. Based on my own experiments, I can tell you that simply doubling the laptop's memory would boost the score by 30% or more.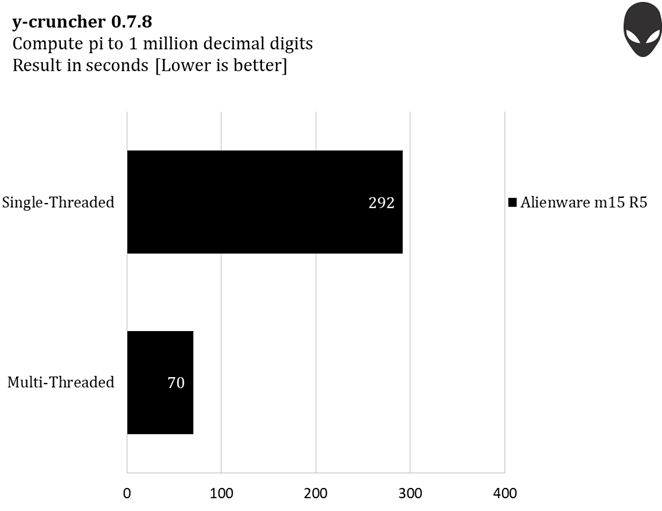 y-cruncher is a threaded benchmark that computes pi to a configurable number of digits. The test is frequently updated to incorporate architectural enhancements, including SIMD capabilities like SSE, AVX, and AVX512.
Running y-cruncher on a single core allows the M15 R5's Ryzen 7 5800H to hit its 4.4GHz maximum boost clock. Among the laptops I've tested, this is a record-setting single-threaded result.
Throwing all eight of the Ryzen 7 5800H's cores at the same math problem cuts its execution time tremendously. Stepping up to 32GB of DDR4-3200 would knock that number down even more.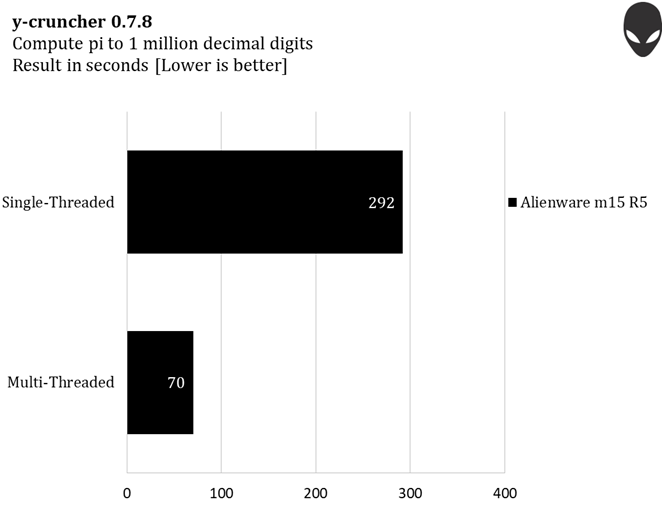 CPU-based rendering in Blender is bound by threaded host processing performance. A well-cooled Ryzen 7 5800H allows the M15 R5 to average 3.6GHz across its eight cores at a maximum temperature of 83°C.
Accelerating Blender with CUDA cuts down render times significantly. The M15 R5's GeForce RTX 3060 is clearly adept at more than just gaming.
How would you build your Alienware M15 R5?
A strong mobile processor line-up based on an optimized Zen 3 architecture gives AMD newfound prestige that Alienware embraces with its M15 Ryzen Edition R5 laptop. It's a premium platform, complemented by a plethora of enthusiast-oriented options.
Naturally, savvy enthusiasts are going to compare the M15 R5 to Dell's G15 5515 (another AMD/NVIDIA-based platform) and existing M15 R4 (with Intel CPUs and NVIDIA graphics). So, where does this setup land in a sea of compelling choices?
The Dell G15 5515 promises excellent value. It's a concentrated taste of AMD's current-gen CPUs and NVIDIA GeForce RTX 3060 graphics with up to 32GB of DDR4-3200 memory, a pair of M.2 slots for SSDs, 2.5 Gb/s Ethernet, and an option for a 165Hz FHD display. You get all the essentials for exceptional performance at a reasonable price.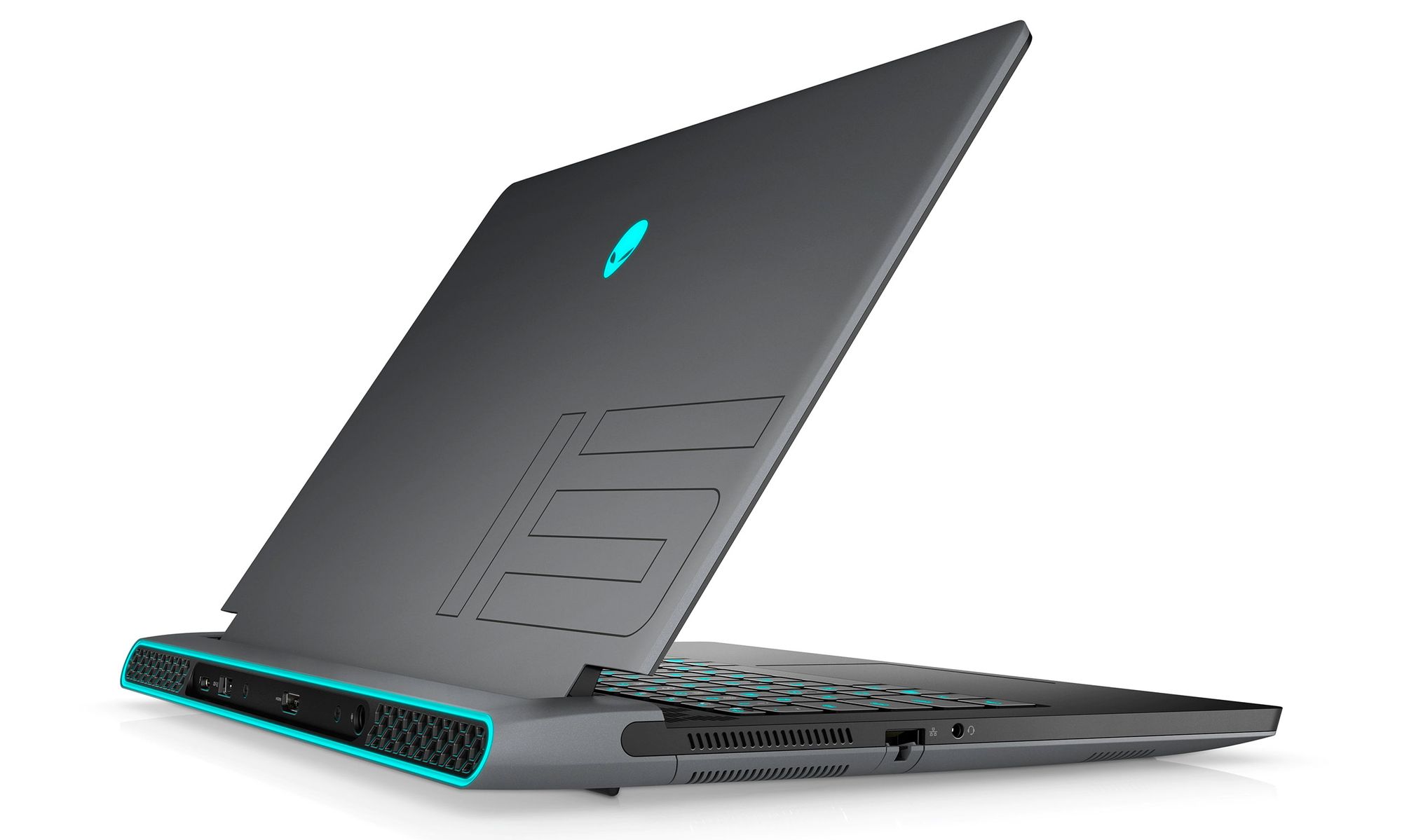 Alienware's M15 R5 elevates that experience with exclusive options like the Ryzen 9 5900HX and GeForce RTX 3070. The M15 R5 also gets you access to 360Hz FHD and 240Hz QHD panels. And don't forget the ultra-low-profile mechanical keyboard. I didn't expect to fall for the Cherry MX switches like I did; now it'd be hard to give them up.
Pitting the two Alienware models against each other is more complicated, despite their shared pedigree. The M15 R4 is a little lighter and a little thinner. It can be configured with up to GeForce RTX 3080 graphics and a 4K display, though that 60Hz panel services a different type of user than the M15 R5's 240Hz QHD screen. The M15 R4 includes Thunderbolt 3 connectivity, Graphics Amplifier support, a mini-DisplayPort output, and room for a third M.2 SSD. But the price of a fully loaded M15 R4 is correspondingly higher.
Ultimately, Alienware's M15 Ryzen Edition R5 hits a sweet spot for gamers seeking great performance, excellent build quality, and a dose of value. If I was configuring my own, I'd upgrade to a GeForce RTX 3070 and 240Hz QHD display, then add the mechanical keyboard. But the version I tested, with a GeForce RTX 3060 and standard 165Hz FHD panel, still put a smile on my face.
You can find me on Alienware's Discord server, generally hanging out in the #tech-talk channel. If you have questions about my experiences with the M15 Ryzen Edition R5, you can post them in the #R5-q-a channel starting Thursday, May 20. I'll answer your questions as I'm able to over the coming days. See you in the Discord!