By: Chris Angelini, Technical Contributor
Sponsored by Alienware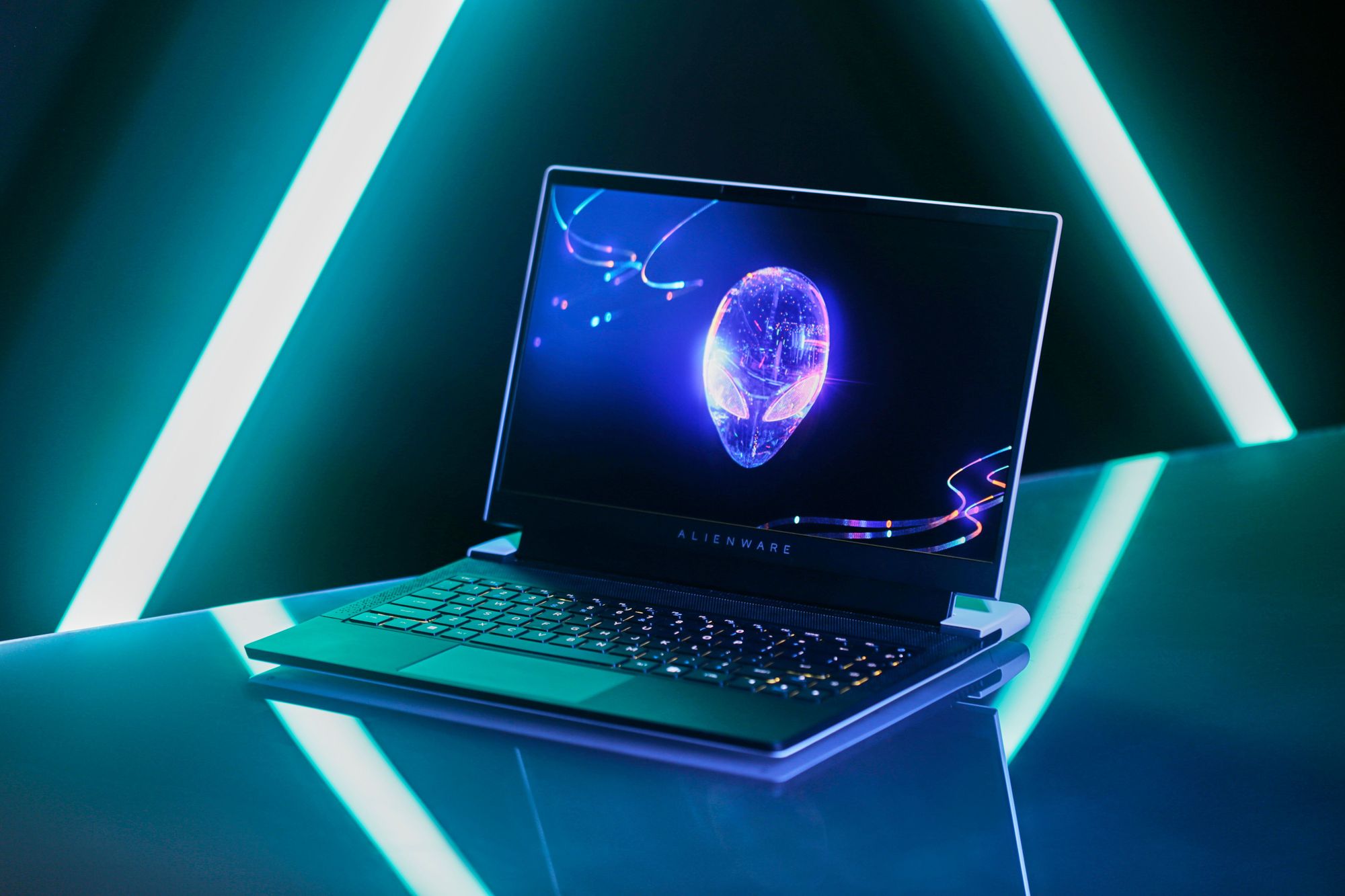 I'm a gamer, through and through. But when it comes time to hit the road, I want a laptop that's compact and easy to carry. Oh, and it can't die on me halfway through a flight. Historically, that means I typically favor smaller notebooks, even if it means less game time away from home. Staying nimble simply takes precedence when I'm running around a trade show, wedged into a conference room chair, or trying to catch consecutive meetings.
When Alienware told me they were working on something even thinner than the already sophisticated x15, my interest was piqued. The excitement reached a fever pitch when they added that this new system was not only built for maximum mobility, but also serious gaming.
Enter the x14. I've been using the world's thinnest 14" gaming laptop over the past few weeks and can tell you it lives up to my expectations. By day, it plows through office tasks at record pace. By night, it plays the latest games, smoothly, in all their high-quality glory. In between, a big battery keeps me computing without missing a beat. And when it does come time to top off, USB-C charging is oh-so convenient.
Thin to win: Alienware performance in a brand-new form factor
Let's be honest here. When you sit down with the x14 at your favorite coffee shop, you're going to turn heads. Not in an obnoxious way. The x14 doesn't call attention to itself with sharp lines, loud colors, or bright lights. Rather, it's all about elegance. To begin, the 14" form factor is noticeably smaller than the 15" laptops most road warriors carry.
Then there's the thinness. With its lid closed, the x14 presents a barely-there profile. Opened up, the contrast of Lunar Light paint and the Dark Core interior exude style. A tasteful amount of AlienFX lighting highlights the top cover's Alienware logo and keyboard.
Creating a gaming laptop that breaks records with its dimensions was no minor feat. Alienware's engineers needed to innovate, and they started with the x14's patent-pending hinge, which moves forward and backward on a track using dual torque elements. The way the hinge is designed makes room for the high-performance hardware underneath. Without it, Alienware says the x14 would have had to be thicker or less powerful.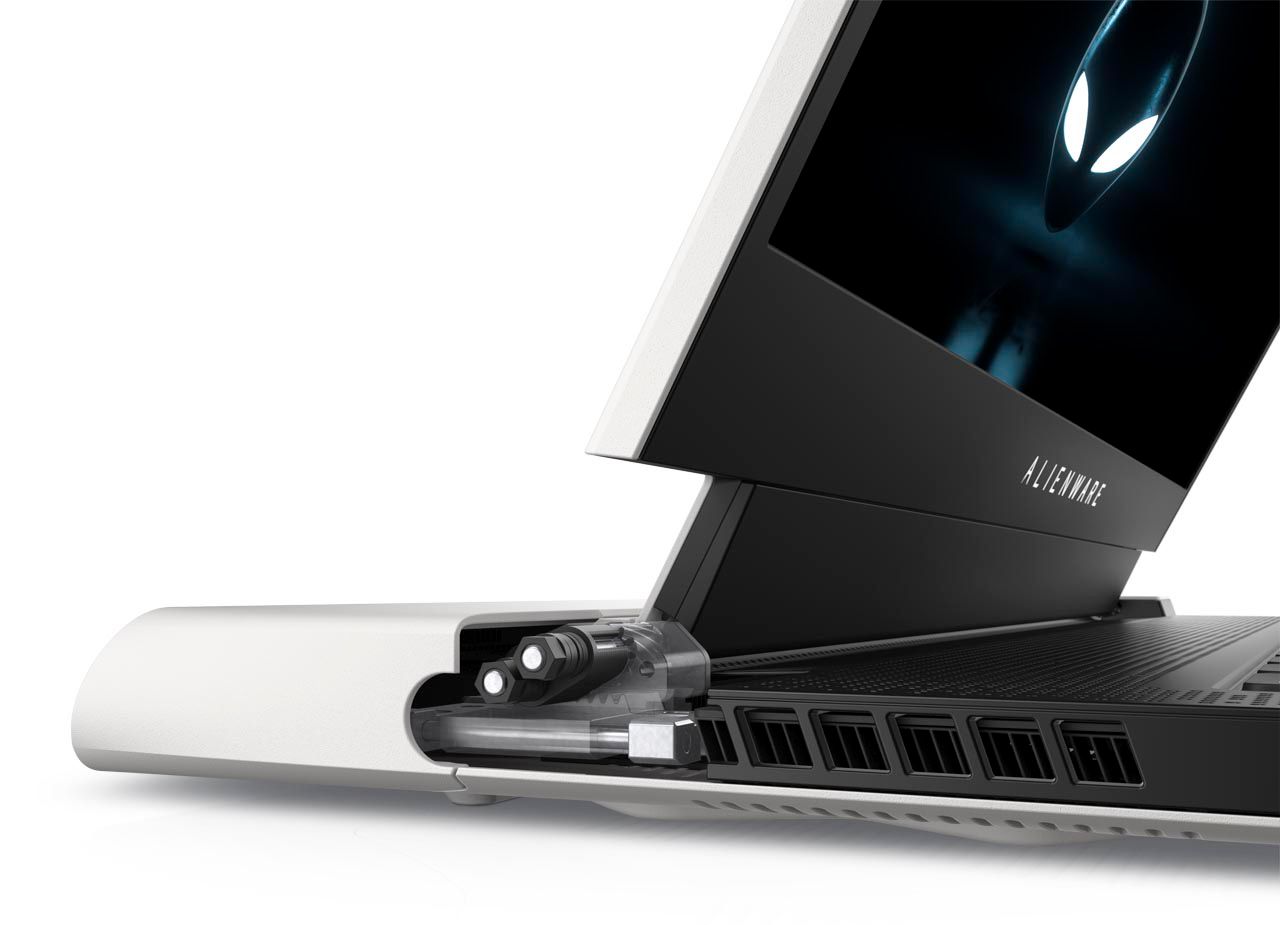 But I'm also impressed by the hinge's strength. I've owned laptops with lids that felt a little too sloppy. The x14's panel offers just the right amount of resistance as it lifts into place, and then holds its position with confidence. Pull it back down and it meets the palm rest with a satisfying snap.
That attention to detail doesn't come through in a spec sheet, or even a video. You have to feel it for yourself. Hold it in your hand. Just prior to the x14 launch, I sat down with Alienware Hive members, Josh and Brittany of Tech Tesseract, to talk about their experience with the x14 at Alienware's CES 2022 demo in New York.
Josh observed, "The first thing you notice when you pick it up is how thin it is. Thex14 is unbelievably thin considering its specs. You kind of just grab it with one hand and carry it off. It does feel super-premium. That was something surprising as well because you sometimes associate things that are thin with being a little flimsy. But you pick up the x14 and it feels solid." Brittany added, "It's great that the x14 has so much great hardware inside, but I can't understate how good it looks. I feel like Alienware always comes through with the design of their laptops."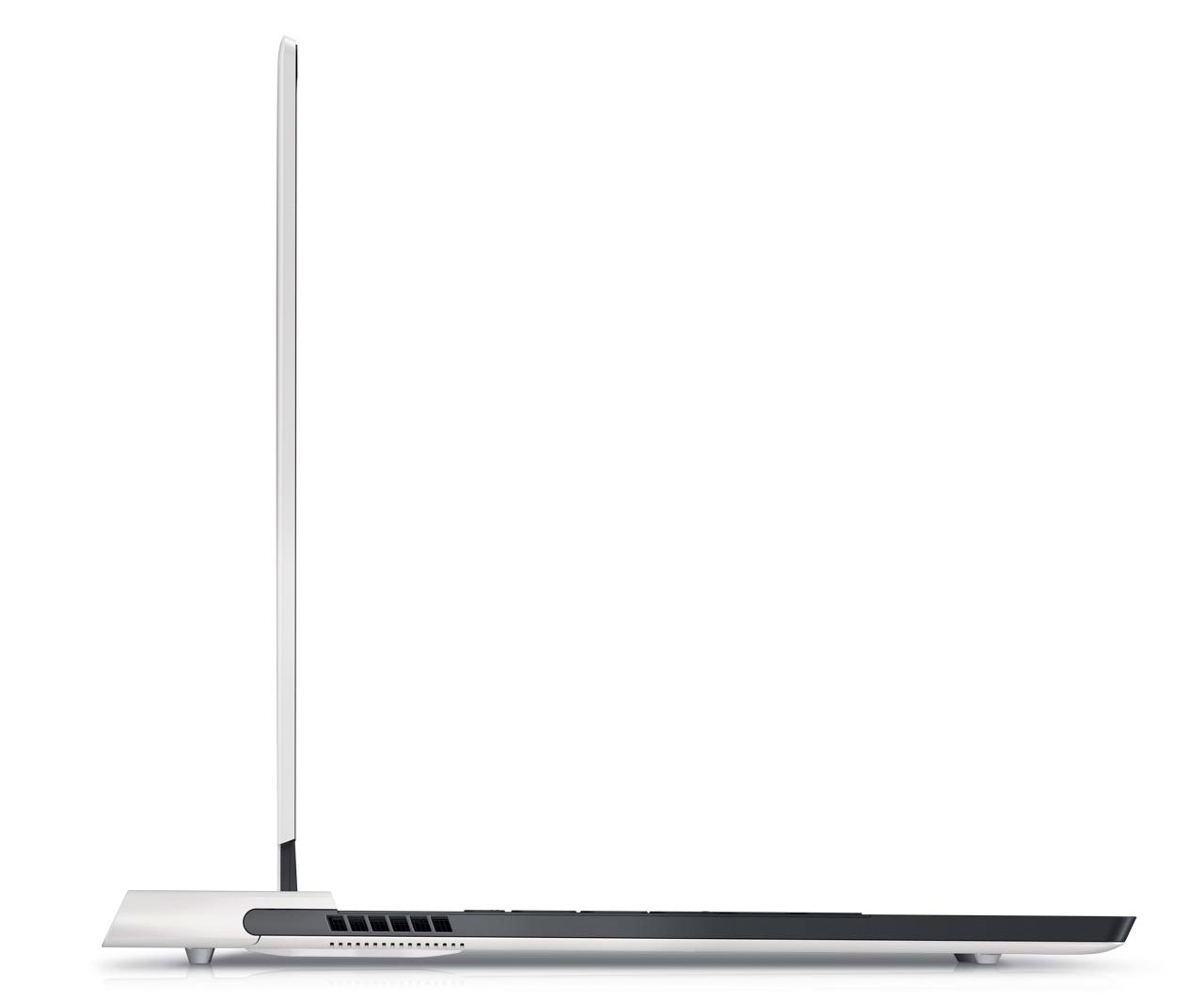 Gamers rejoice, this truly portable package delivers a punch
Being a hardware guy, I can appreciate the engineering that went into designing a laptop that fits so much horsepower into such a thin frame. With your choice of Intel 12th-gen Core processors and NVIDIA® GeForce RTX™ graphics, this system muscles through demanding tasks with ease. I asked Brittany and Josh what they see themselves playing on the x14 and Brittany took the lead.
"Recently, we've been playing a lot of Minecraft. I know most people think you don't need a powerful PC to run that game. But if you're playing with an amazing shader pack and high-res textures like we do, it takes a lot of fast hardware to handle that. Seeing the x14 with all the new components in it, I feel like the x14 would be great for running Minecraft."
Josh followed up. "Yeah, and I'm a big fan of a lot of open-world AAA titles, so I'm interested to see some benchmarks on the newest games. I do actually want to try out the Metro Exodus PC Enhanced Edition with its overhauled ray-traced lighting pipeline. So, with the 3060's RTX and DLSS technologies, we should see some good frame rates. That 1080p resolution is good for the display's size as well, at 14". I feel like that's a good balance."
Metro Exodus is one of the games I play regularly, so I can confirm it looks (and runs) great with ray tracing cranked up for an extra dose of eerie realism. On my x14, enabling DLSS boosts performance an extra 70%. So, whether you're into fast-paced shooters or immersive open world games, Alienware's x14 is locked and loaded with the speed you need for an enjoyable experience.
A battery that won't leave you outlet-hunting
Given all the x14's gaming hardware, I wasn't initially expecting the system to last long away from wall power. But I should have known better. Alienware says the x14's 80 watt-hour battery has the highest capacity ever put into a 14" gaming laptop. Its own testing suggests you should get more than 11 hours of HD video playback. I'm a little harder on my notebooks, though. Streaming over Wi-Fi, and with the x14's gorgeous display precisely calibrated to a vibrant 150 nits, I binged more than six hours of movies before plugging back in.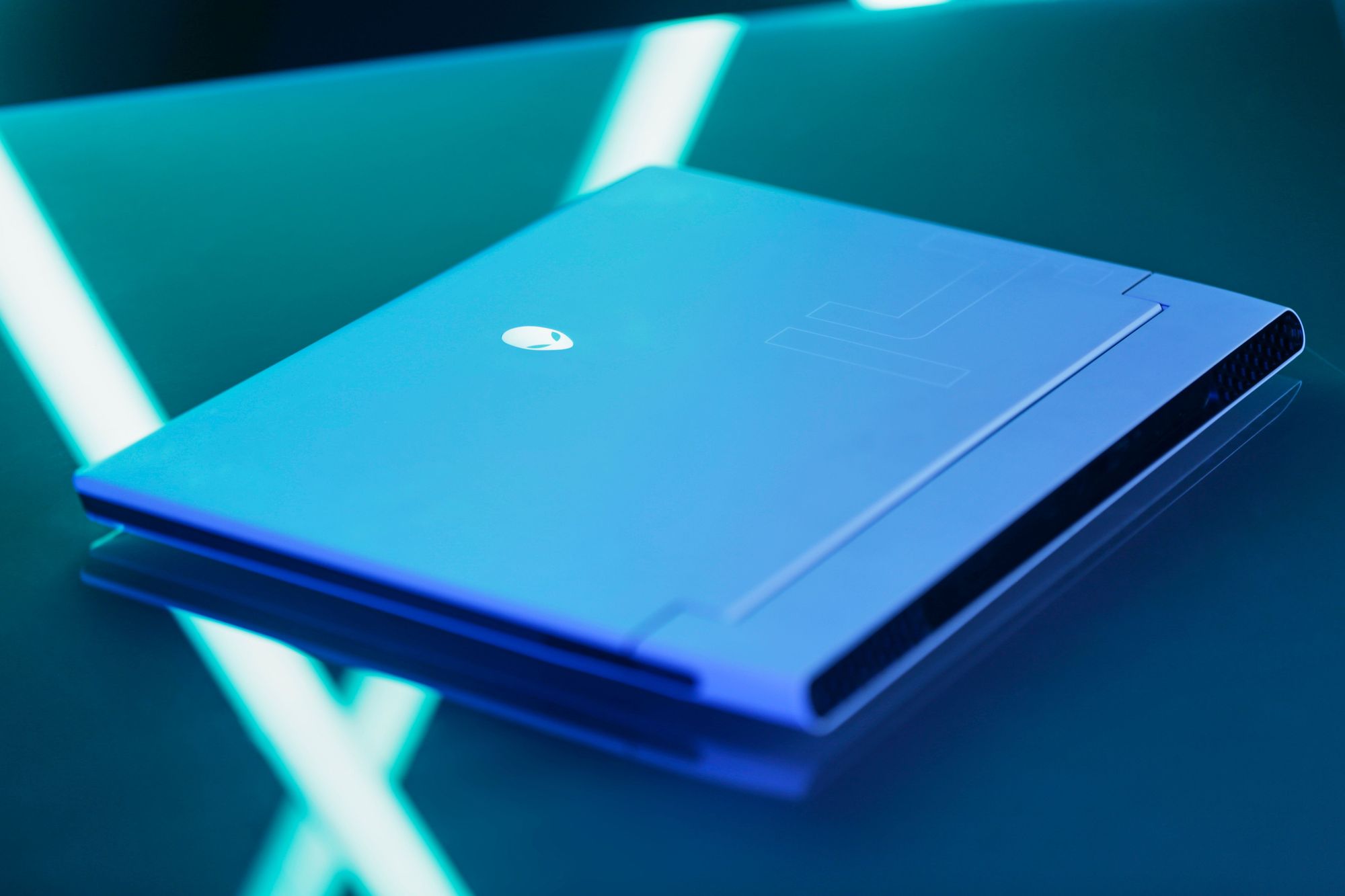 I've attended countless trade shows and press briefings where I was on my laptop all day, staring at the battery indicator and hoping I'd make it to the end before running out of juice. It gets stressful to say the least. Using the x14's Quiet thermal profile, I clocked nearly six hours of the writing, web browsing, and video conferencing that constitutes an average travel day. Again, that's connecting (and reconnecting) to wireless networks, cranking up the screen brightness, and running a whole bunch of background tasks. Needless to say, I'm comfortable switching to the x14 for those trips.
Brittany agreed with me. "The laptop I currently use gets me two to three hours before it dies, then I have to charge it for a couple of hours before I can use it again. So, a laptop the size of the x14 is definitely something I'd be taking to events. We're going to be traveling a lot, so it's especially good for long flights, too."
When it comes time to charge the x14, I'm absolutely loving Alienware's compact 130W USB-C adapter. It's small, it's super convenient on the road, and it charges the x14 quickly. And if I forget it at home, almost any other USB-C charger works in its place.
Josh really appreciates that element. "The USB-C charging is an underrated feature for sure. So many times, I've left the house with my laptop, but forgot the charger. But I'll usually have a power bank or a phone charger, so it's awesome to have that on the x14."
The x14 gives you the performance you need to run your favorite games smoothly and the battery life to keep you productive for hours, all packed into a travel-friendly, impossibly thin frame. What more could a gamer-on-the-go ask for?
---