Leveling up Concept Nyx with new controller concept and game-changing enhancements
By: Glen Robson
Have you ever wanted to watch a movie but your partner, family member or housemate wants to keep dropping into new rounds of Fortnite? We've all been there. As the living room, and specifically the screen in it, became the place where families connected, it also emerged as the battleground for epic tug of wars between "my show's on" and plenty more of "just one more game."
Last year, a dedicated team of conjurers in our Experience Innovation studios broke the mold of the PC gaming experience by introducing Concept Nyx – an edge gaming concept that provides easy access to gaming libraries across multiple devices and screens so players can take their gaming session around the home effortlessly. Well, this year, the team has taken their experimentation even further to explore how to make your gaming libraries more accessible than ever.
But how?
One controller to rule them all…
The keyboard and mouse have long sat at the heart of PC gaming – playing an integral role in real-time strategy or MMO (massively multiplayer online) games. Next, console-like controllers crept up next to PCs, offering simplicity and couch-friendly design but leaving much to be desired. There had to be a better, reimagined controller designed around the modern gamer and their needs.
This is where our "mad scientists" dug in.
We won't lie, the first designs were pretty wild: we added straps, a ton of buttons, sensors, and even created a modular design that could be taken apart and customized for each game. These were all cool and radical, but we started to wonder: What if your controller recognized you from others in your home so when you picked it up, you were launched right back into where you left off? What if your controller automatically optimized itself depending on what type of game you were playing?
Introducing the Concept Nyx Game Controller.
Now, before you ask, this is a concept, not a product. It's one way for us to test out technologies to help inform our future experience roadmaps. We're proud of how many of our dream features we managed to squeeze into this prototype. Join us as we look under the hood and reimagine gaming experiences of the future. At first glance, it might look like just another controller, but take a closer look and you'll find many unique features we've never seen on a PC gaming controller before.
Personalized settings and content could truly be at your fingertips. A clever fingerprint reader could get you into Guild Wars 2 in an instant, and you could stream to any of your devices or screens by pointing the controller at them and pulling the trigger. Don't want to go through the motions? You could even use your voice to connect.
When it comes to immersive gameplay, we're experimenting with haptics and self-adjusting variable resistance thumb sticks (we know that's a mouthful) that can be tailored to your preferences or the specific game you're in. So, whether you're driving a tank, using a bow to hunt, or taking down robots, the thumb sticks and our X-triggers could give you rich sensory feedback. We've also embedded PC gaming musts into this concept by including shift buttons to allow for more front button options, innovative scroll wheels for easy navigation and weapon cycling, plus an intelligent touchpad for instant access to customizable controls – all of which would make it easier to stay out of the settings menu and stay in the game. Imagine being able to easily switch between weapons, armor, potions, and other inventory items with a quick flick down on the scroll wheels
Because we know it's sometimes tough to keep up with the different gaming controls across different games, we've also paired the controller with fully customizable intelligent on-screen controls and overlays to show the button mapping. With this feature, you'd never have to guess if you mapped the X-button to your shields or your grenades.
No More Tug of War
Remember that fight between the gamer and show binger? The white flag might be flown in the future, because the built-in Wi-Fi connection directly to Concept Nyx means you and others in your household could easily multitask and view messaging apps, emails, movies or games on intuitive split-screens. What's even better - connect one (or a couple of) wireless headsets, and you could game on half of your screen while your loved ones watch a movie on the other half! Yup, it's that simple. Everyone is happy!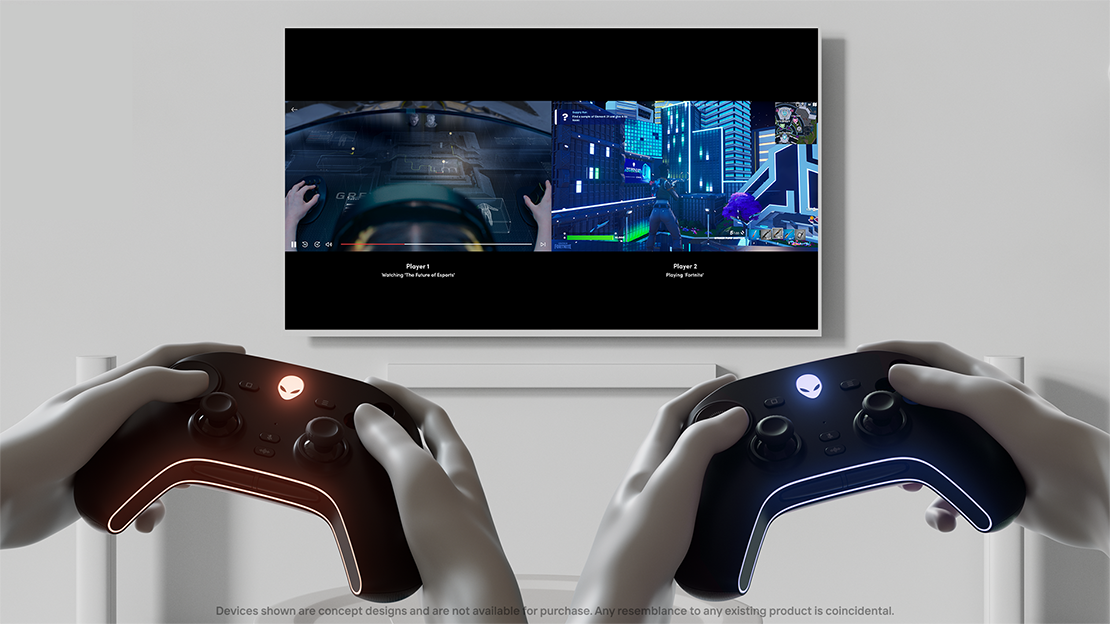 We've also improved and simplified the Concept Nyx dashboard so that you could easily see what your friends are playing and access your games quickly. We're experimenting with new shared experiences which could bring families and friends closer together, giving people the flexibility to game with and around others in the same room. For families, we want future gaming experiences to be shared and celebrated between parents and the next generation of gamers. To help with this, we've developed some innovative parental tools and dashboards that would allow parents to observe, participate and interact with their children.
All play and no work? AI solutions for hybrid life
And finally, ever feel you need to be in two places at once? We've all had those experiences where you're multitasking, perhaps getting work done with one eye on a game or watching a movie, and then your phone rings. Well, we're experimenting with ways to help users find some balance: What if, in addition to the split screen capabilities, you could activate an Artificial Intelligence (AI) assistant to listen in for your name or pick up on when someone asks you a question so that you don't miss anything important? And what if we also added captions to the call so you could skim for extra context when called up to respond? A multitasker's dream, perhaps?
It may sound like one of our most audacious explorations to date, but the integration of work and play is real, so we're going to continue exploring ways AI could help us seamlessly transition between tasks and spaces.
So what's next for Concept Nyx?
Gaming leads the way for immersive experiences and these explorations have been the blueprint for the development of Concept Nyx's intelligent edge ecosystem beyond gaming. As gamers ourselves, we're stoked to push the boundaries of intuitive gaming experiences and hope to bring the learnings from this journey to our future portfolios. Watch this space for further updates!