Take control of Cryo-Tech cooling with tailored power states and the TCC offset
By: Chris Angelini
Sponsored by Alienware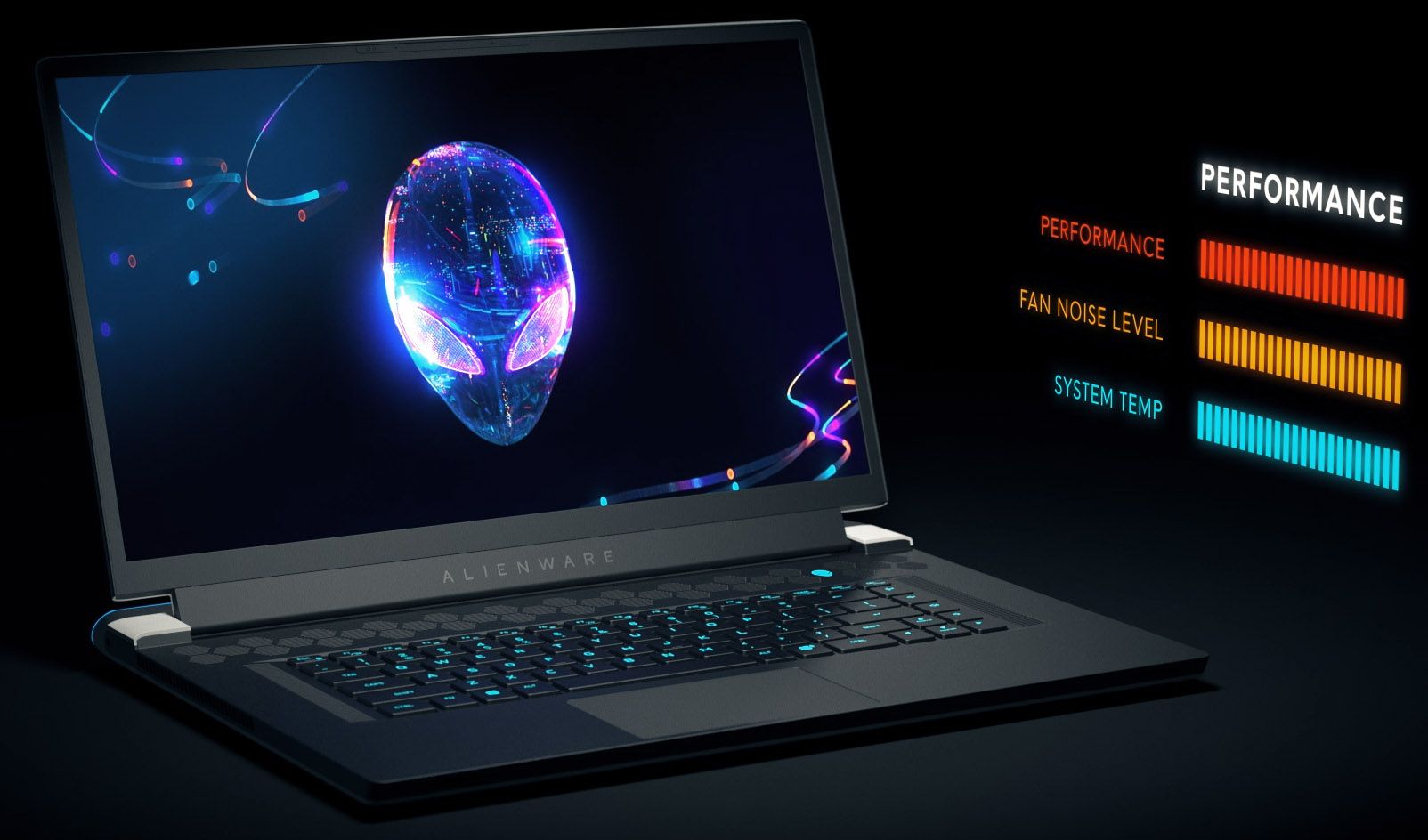 Right out of the box, Alienware's x15 and x17 are optimized for speed. Their stock thermal profiles allow them to dissipate a certain amount of power, reach a specific skin temperature, and generate only so much noise. If you never touch any of the platform's knobs and dials, Alienware wants to be sure you get everything these systems were designed to do.
But the company also knows enthusiasts want the freedom to make their own adjustments. That's why, in addition to the Element 31 thermal interface material and quad-fan design we recently wrote about, Alienware's Cryo-Tech engineering approach also includes customizable power states and a Thermal Control Circuit offset for limiting CPU temperatures.
· Part 1: x15 and x17 laptops challenge physics with high-density performance
· Part 2: These Cryo-Tech cooling technologies are the secret sauce behind Alienware's x-series gaming laptops
Choose your own experience with tailored power states
At their core, the x15 and x17's tailored power states, referred to as Thermal Profiles in Alienware Command Center, are a tacit acknowledgement that we use our laptops for different tasks. In a company-wide meeting or classroom, you value low temperatures and quiet computing. When it comes time to compile a coding project or render a video, performance becomes the priority. Back at home, your laptop might be used for streaming a movie one night and gaming on an external monitor with a USB keyboard the next. Each of those situations calls for unique behaviors from the CPU, GPU, and cooling system.
When you first fire up Alienware Command Center, expand the Thermal menu from the Home screen and five familiar profiles show up: Full Speed, Performance, Balanced, Quiet, and Battery Saver. While the names carry over from other Dell laptops, there's a lot of new sophistication under the hood. Let's start with a quick definition of how these profiles work.
· Balanced, Dell's default setting, is optimized for 100% concurrency across the CPU and GPU. This is exactly what you want for streaming on a platform like Twitch, where CPU-intensive video encoding is combined with graphics-heavy gaming.
· Performance favors the GPU, yielding higher frame rates in games, without affecting thermals or acoustics compared to Balanced mode.
· Full Speed strips away the limiters. If you're gaming with a headset on and noise isn't a factor, running all four fans at 100% helps keep the x15 and x17 cool, maximizing performance.
· The Quiet profile enforces an acoustic target. High Turbo Boost clock rates take a back seat to barely-there fan speeds.
· If you're looking for cooler skin temperatures, whether you're plugged in or on the road, the Battery Saver profile is all about low-power operation.
The five profiles take feedback from sensor data and optimize performance within a set of unique parameters. In each case, Alienware's engineers dedicated themselves to tuning CPU and GPU clock rates using whatever thermal and acoustic headroom was available. The aim: to get those processors up to speed, through their workloads, and back to idle faster than previous generations.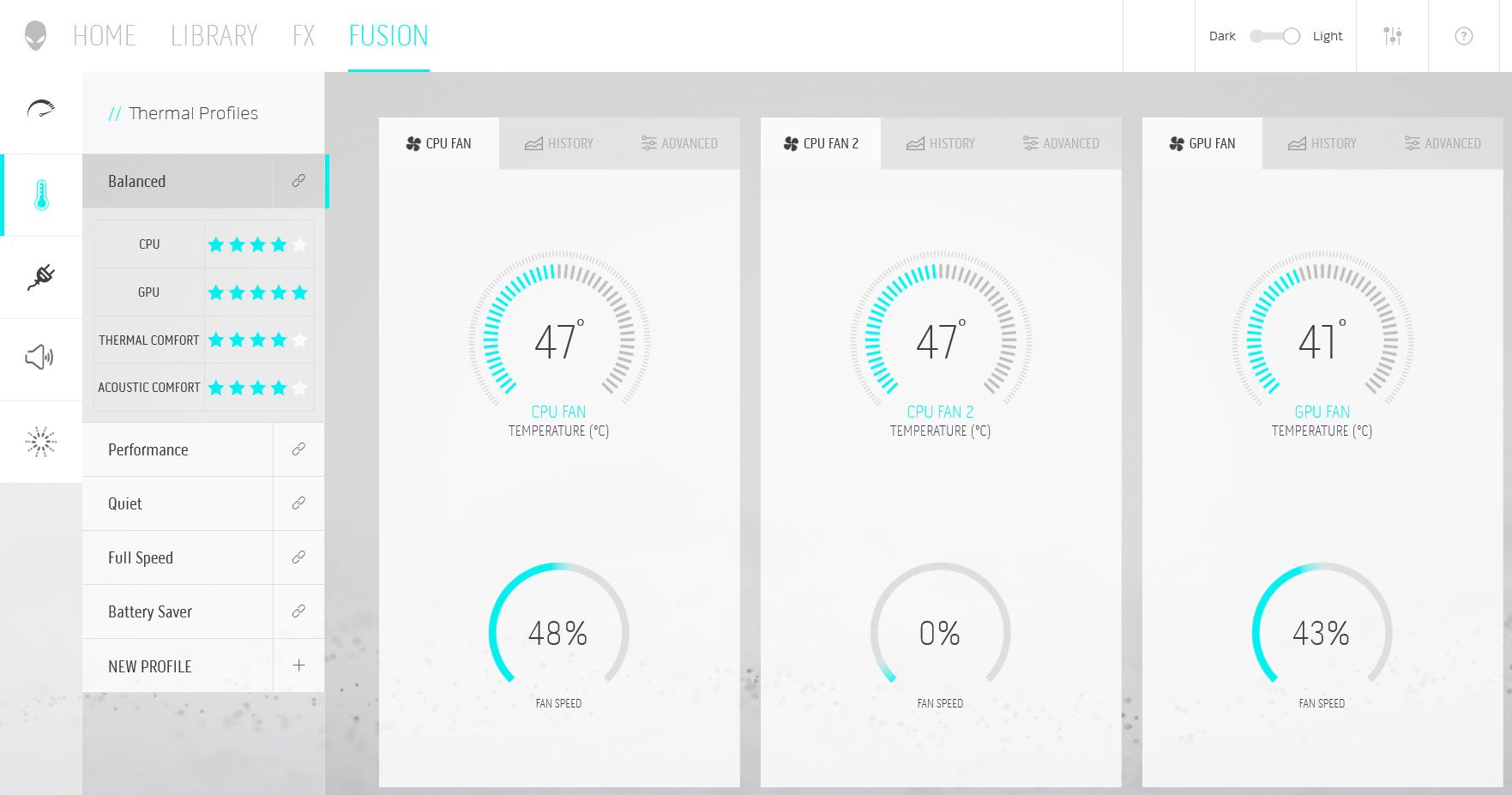 Elevating the X-series' responsiveness required tight integration between Alienware's hardware and software. The relationship goes much deeper than ingredient technologies—the capabilities exposed by Intel and NVIDIA. Rather, these laptops make decisions on the fly using their own telemetry.
Temperature readings, for example, are insightful because they're tied to power consumption, which also correlates with utilization. The x15 and x17 can monitor a wider range of variables than previous Dell models, making them more intelligent about the way they interpret inputs.
Set a CPU cruise control with the Thermal Control Circuit offset
Even as Alienware's custom algorithms continually adjust frequencies and fan speeds for the best possible experience, the company's engineers wanted to be sure that gamers using these laptops have the last word in how they behave. Tailored power states serve as a transmission of sorts, controlling the hardware's application of performance to suit your environment. But Alienware also exposes metaphorical redline limiters for the CPU and GPU.
By default, the x15 and x17 adhere to Intel's package specification, which says its 11th-gen Core CPUs can safely run at up to 100°C. Once the silicon die hits that limit (referred to as the junction temperature), an on-board thermal control system dials back power and frequency to help prevent overheating.
Alienware's Thermal Control Circuit (TCC) offset, accessible in the BIOS of both X-series laptops, overrides the processor's thermal junction maximum by up to 15°C. This is an extra bit of flexibility that allows gamers to choose between peak performance and lower CPU temperatures.
The Alienware Command Center software also gives you a way to limit the maximum temperature of NVIDIA's GeForce RTX 3000-series GPUs. Simply adjust the Thermal Limit slider on the graphics processor's Advanced View tab, which you can get to by clicking an Overclocking Profile under the Fusion menu.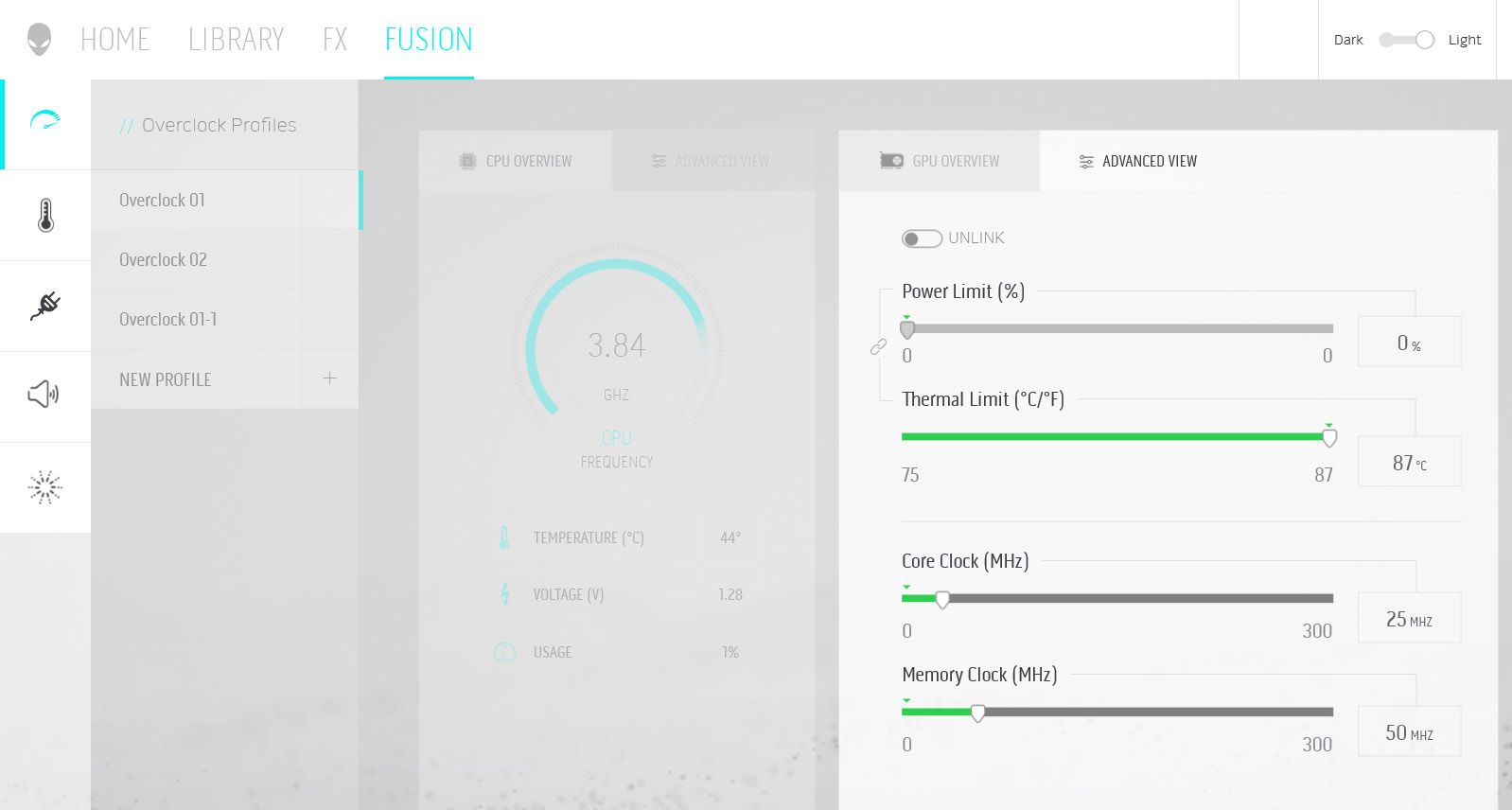 Here's the beauty of those configurable settings on a platform like the X-series: because Alienware's engineers designed such a tremendous cooling system, many workloads run at temperatures far lower than the hardware's maximums. Those tasks that do push the CPU or GPU harder are handled elegantly by advanced mechanisms supported by today's cutting-edge components. So, you can leave the stock settings in place and enjoy peak performance for years to come or specify the temperatures you're comfortable seeing. Alienware gives you that choice.
Tight tolerances, rigorous engineering, and headroom to spare
The x15 and x17 are beneficiaries of an industry-wide emphasis on efficiency. They're built using components that deliver higher performance within the same (or lower) power levels compared to previous generations. Not content to simply ride those ingredient technologies to glory, Alienware engineered a new platform that took ultra-fast hardware and made it run at its full potential in an ultra-thin chassis. Parts 1 and 2 of our blog series discussed the ways these systems were condensed and optimized.
Despite the tight tolerances and exacting specifications needed to make the pieces comprising x15 and x17 fit together, both laptops have margin in their design for earnest customization. You can overclock, undervolt, dial in your thermal preferences, tune for power consumption, and get the acoustics just right. For every adjustment you make, intelligence under the hood rebalances to maximize performance within your preferred parameters.
As you manipulate the X-series' various knobs and dials, the interplay between software and hardware is so transparent that it's easy to forget how much is going on under the hood. In the fourth and final chapter of our blog series, we'll dive back down to the motherboard level for a look at HyperEfficient Voltage Regulation, Alienware's secret weapon in maintaining high clock rates over hours of gaming on the x15 and x17.