The 34" Alienware AW3423DW and AW3423DWF monitors bring QD-OLED technology to gaming PCs

Ready to elevate your gaming experience? The ultimate upgrade is a brand-new monitor, and our AW3423DW and AW3423DWF promise to blow you away with the latest in display technology.
Both models turn heads with curved, 34" ultrawide form factors. They flaunt jaw-dropping visuals to command the room. And their spec sheets read more like wish lists. These gaming monitors are the real deal though, combining lifelike colors, contrast ratios like you've never experienced, and variable refresh rates to complement your GPU's smooth performance.
The only question you should be asking is which model goes best with your gaming PC?
Our curved, 34" QD-OLED monitors are back-to-back winners.
The Alienware AW3423DW and AW3423DWF are powered by vibrant quantum dot (QD) OLED panels that deliver impeccable color performance and cinema-grade color coverage. They combine the best qualities of OLED and the stunning brightness inherent to quantum dots.
OLED is an emissive technology—each pixel is its own light source. When the pixel turns off, it goes completely dark, which is how the AW3423DW and AW3423DWF offer infinite contrast ratios and inky blacks. But unlike traditional OLEDs, which comprise a white emissive layer covered by a color filter that reduces brightness, our QD-OLEDs start with blue self-emitting pixels and a layer of QD nanoparticles on top, creating the other colors you see on-screen.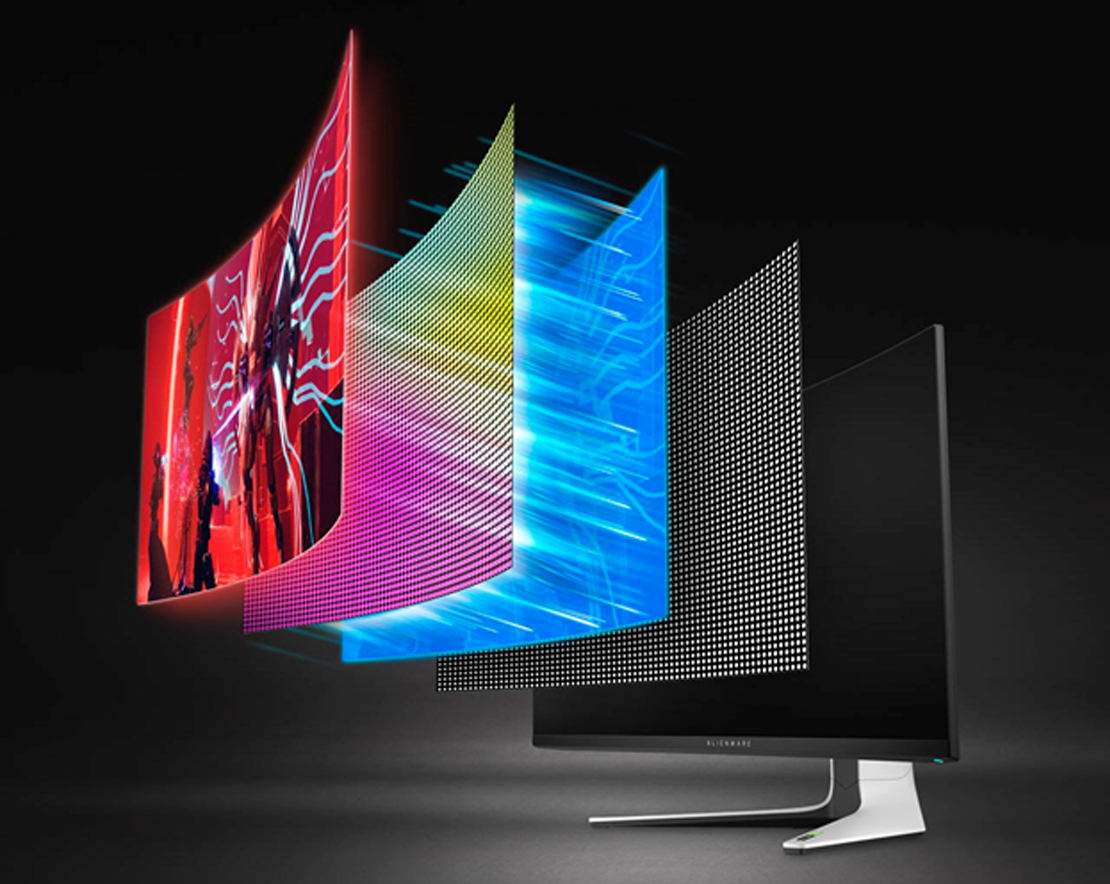 Converting blue light by changing its wavelength (rather than filtering it) makes for a brighter panel. As a result, the AW3423DW and AW3423DWF achieve a 1,000-nit peak brightness rating that looks nearly twice as bright as an LCD monitor. This exceptional performance earns both displays DisplayHDR 400 True Black certifications.
Quantum dots are also great for enhancing color uniformity and performance. Both displays cover 99.3% of the DCI-P3 color space across wide viewing angles. That means you'll experience a more vivid gamut from these monitors than you've ever seen before. Plus, they're factory-calibrated to a Delta E of less than 2. Every AW3423DW and AW3423DWF reproduces colors so close to the benchmark standards that you wouldn't be able to see the difference.
As you might expect, our ultrawide models are equally adept in a content creation role. They even include a special Creator mode for toggling between the native DCI-P3 and sRGB color spaces, complete with gamma adjustments to dial in your workflow.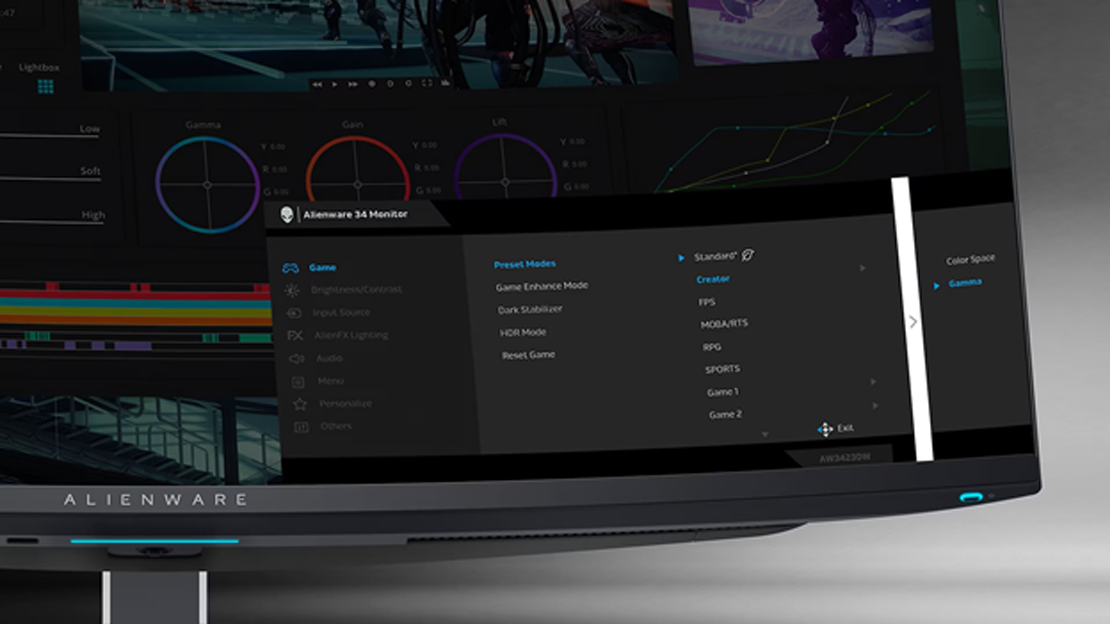 At their core, though, the AW3423DW and AW3423DWF are gaming monitors. They boast industry-leading 0.1 millisecond gray-to-gray response times, changing between colors almost instantly. And both support variable refresh rate technologies that pace your GPU. Tearing, stuttering, and blur are all artifacts of the past.
Smooth gaming graphics are even more enjoyable splashed across 34" inches of glorious WQHD resolution with an aggressive 1800R curvature. The math behind that rating tells us the AW3423DW and AW3423DWF have a 1.8-meter curved monitor radius, meaning they're optimized to wrap around you, up close and personal.
We take the quality of these premium displays very seriously. Both are covered by our three-year Advanced Exchange Service and Premium Panel Exchange plans, guaranteeing against OLED burn-in and bright pixels. If you have an issue with either, a replacement is sent out with a pre-paid label.
Our AW3423DW and AW3423DWF share a lot of top-shelf functionality in common. So, what makes them different? Why might you pick one over the other?
The Alienware AW3423DW pairs perfectly with your GeForce-powered PC
Our AW3423DW is the world's first QD-OLED gaming monitor. It was introduced to rave reviews and continues pulling down accolades for vivid colors, immersive gaming performance, and iconic design.
The Alienware AW3423DW's principal differentiator is G-SYNC Ultimate certification, NVIDIA's most prestigious gaming display classification. It assures lifelike high dynamic range (HDR), stunning contrast, cinematic color, and ultra-low latency gameplay, all validated by NVIDIA's lab after a battery of more than 300 tests.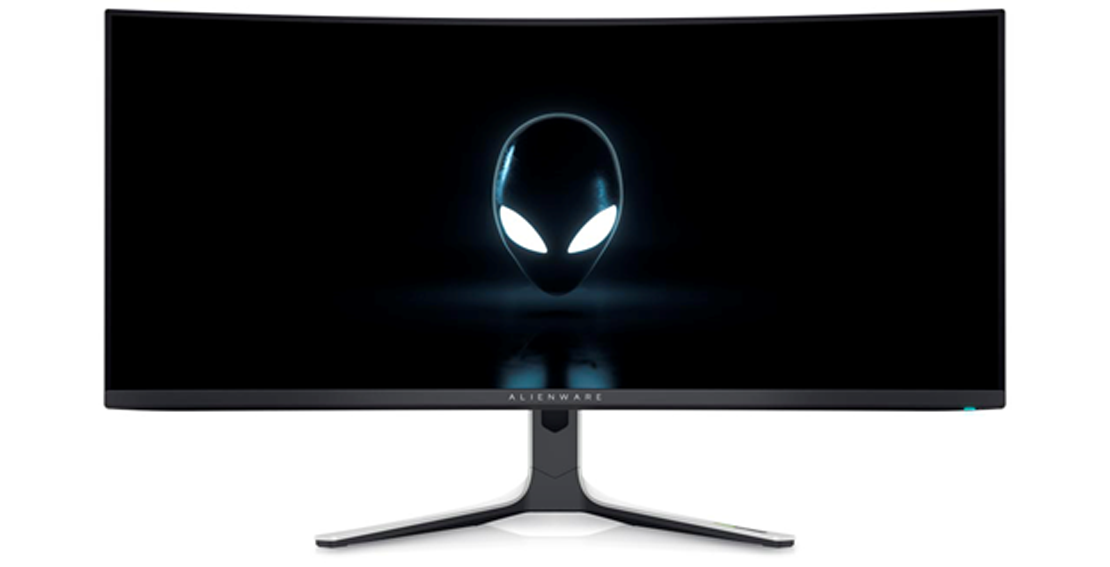 A G-SYNC module inside our AW3423DW is the brain behind NVIDIA's premium technology. When you're gaming, G-SYNC synchronizes the monitor's refresh interval to match your graphics card's frame rate. This eliminates the tearing artifacts seen on conventional displays when slices of two or more frames are shown at once.
Enabling G-SYNC on your gaming PC requires an NVIDIA GeForce graphics card. We'll go one step further and recommend a modern GeForce GPU with DisplayPort 1.4 support, which moves information fast enough to drive the AW3423DW's expansive 3440x1440 resolution at 175Hz.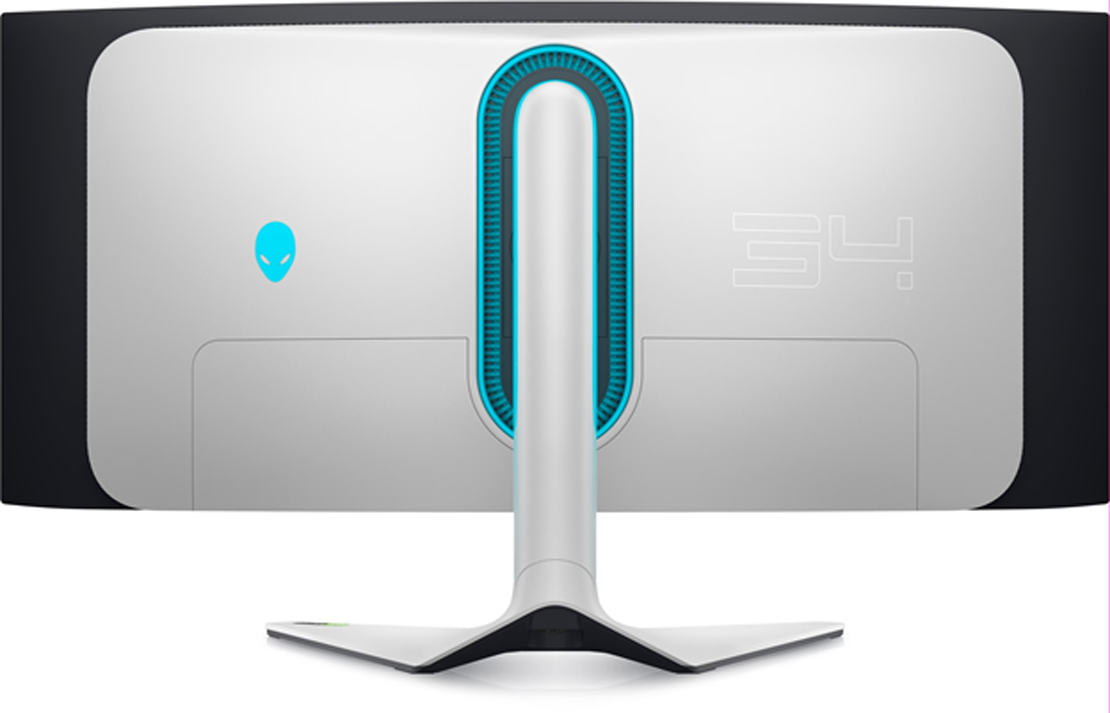 The AW3423DW's Legend 2.0 industrial design promises to captivate. Head-on, thin, dark bezels keep your eyes glued to the QD-OLED showcase. But there's also plenty of flourish around back. The black, ultra-slim panel transitions to 360 degrees of ventilation in contrasting Lunar Light, which helps a pair of whisper-quiet cooling fans dissipate heat. In the middle, customizable stadium loop RGB AlienFX lighting encircles the stand mount, flanked by an illuminated alien head. This stand is remarkably agile. It's height-adjustable (110 mm), tilts from -5°to 21°, swivels, and slants for easy adjustment.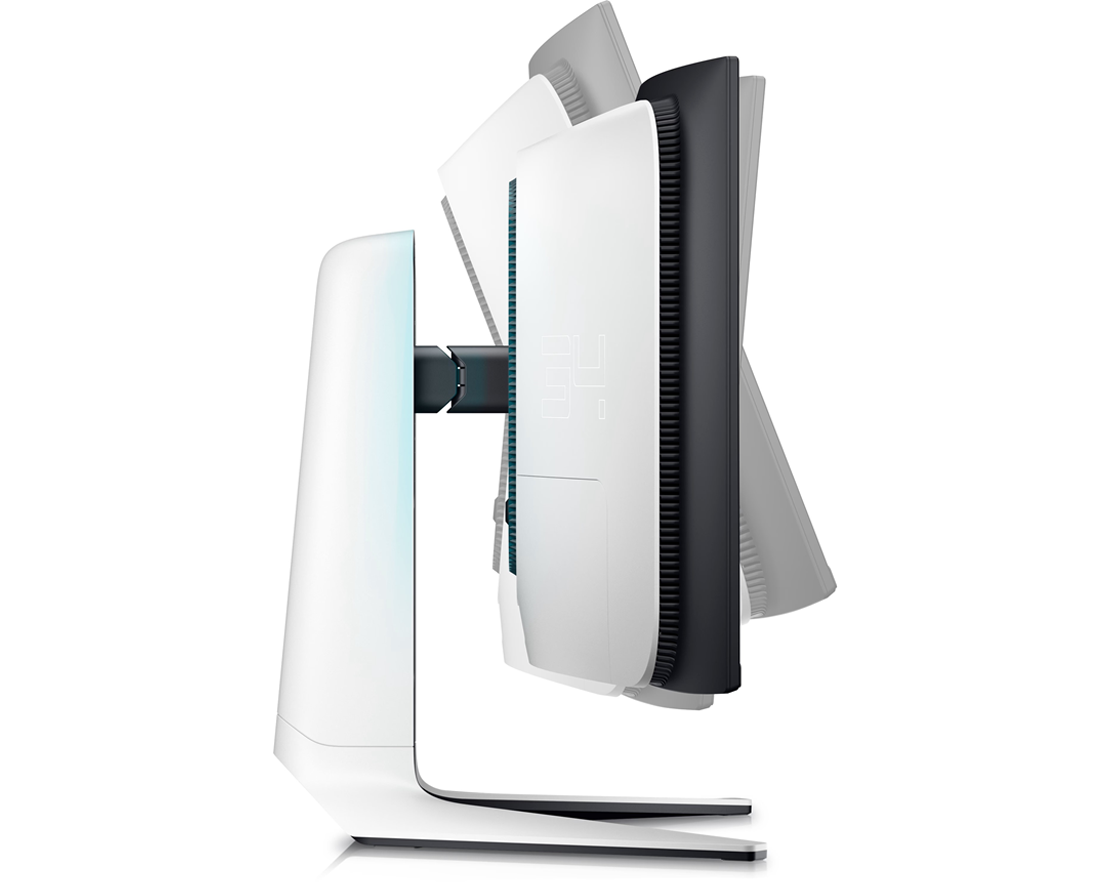 A thoughtful cable management slot lets you route power, up- and down-stream USB, HDMI, and DisplayPort cables up through the stand's base and behind an I/O cover, totally hidden from view. You're going to love the way our AW3423DW looks on your desk.
Enjoy premium performance and unprecedented value from Alienware's AW3423DWF
The AW3423DWF is a more recent addition to our premium gaming monitor portfolio. Similarities between the AW3423DWF and AW3423DW far outnumber their differences. But the newer model does uniquely support AMD's FreeSync Premium Pro technology. Whereas NVIDIA's G-SYNC employs a hardware-based module to work its variable refresh magic, FreeSync achieves the same thing using VESA's Adaptive-Sync protocol, which is part of the DisplayPort interface standard.
FreeSync Premium Pro is the tech's top tier, setting an ambitious bar for color performance, high refresh rates, and low latency. Like G-SYNC Ultimate, FreeSync Premium Pro is all about delivering the best HDR gaming experience possible, with a variable refresh rate leading the charge.
But because the suite of features comprising FreeSync Premium Pro works through standardized protocols instead of a dedicated module, it costs less to implement. As a result, the AW3423DWF is a more affordable alternative that's almost every bit as capable as the AW3423DW.
You might even say it appeals to a broader audience. The AW3423DWF is one of our first monitors to pass VESA's Adaptive-Sync compliance test specification and earn certification. Adaptive-Sync is supported by AMD, Intel, and NVIDIA graphics cards, ensuring flawless variable refresh rate performance in your favorite games.
The AW3423DWF drives its QD-OLED panel at refresh rates as high as 165Hz. It also trades stadium loop RGB lighting for an illuminated screen size number in the back, so you still get a customizable AlienFX ambient glow. And with no G-SYNC module to cool, the AW3423DWF only needs one fan to blow warm air through the monitor's 360-degree ventilation. Less hardware inside translates to a slimmer form factor, too.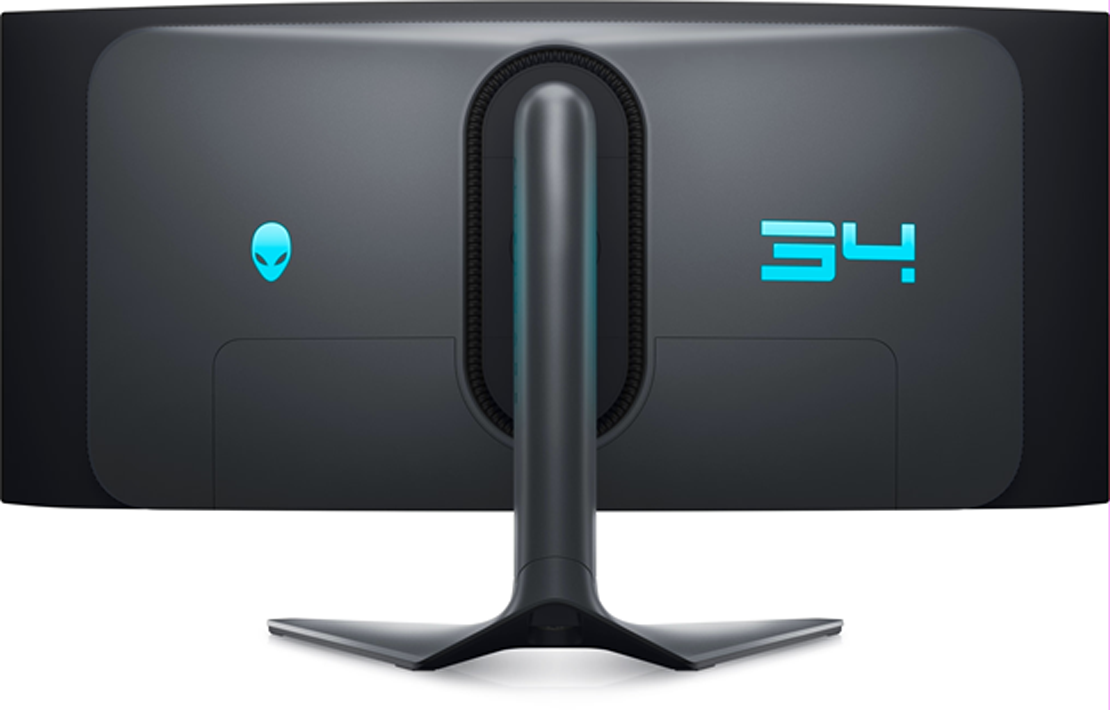 What's more, the AW3423DWF builds on its solid specifications with innovative extras. Picture-in-picture and picture-by-picture are both supported, along with adjustments for gain, offset, hue, and saturation, enabling custom color mode presets. The AW3423DWF even has a special feature called AlienVision—available when you use one of the monitor's gaming presets—that places a rectangle in the screen's center to brighten dark scenes, increase sharpness, add a crosshair, or apply a heat map. Call it a competitive advantage.
Two curved 34" QD-OLED monitors, one amazing gaming experience, and zero wrong choices
The DNA shared by our AW3423DW and AW3423DWF make them both incredible gaming monitors. Between their QD-OLED technology; curved, 34" panels; calibrated color performance; and variable refresh rate capabilities, you know you're getting an immersive experience. You may even find that each model's long list of strengths complicates the task of choosing between them. So, we're here to point you in the right direction.
Gamers with high-end GeForce RTX graphics cards stand to benefit most from the AW3423DW's G-SYNC Ultimate classification. The monitor's powerful G-SYNC module pairs perfectly with G-SYNC-capable GPUs for variable refresh rates up to 175Hz. And don't forget about the AW3423DW's one-of-a-kind AlienFX stadium loop lighting.
The AW3423DWF matches the AW3423DW in almost every specification important to enthusiasts. Its native refresh rate comes close at 165Hz, and it trades stadium loop lighting for customizable AlienFX lights elsewhere. But it's also less expensive. And the AW3423DWF is even more configurable than the G-SYNC version thanks to its FreeSync Premium Pro foundation. Universal support for VESA Adaptive-Sync means you always get smooth variable refresh gaming, whether you own an AMD Radeon, NVIDIA GeForce, or Intel Arc graphics card.
There is no wrong answer here. Our AW3423DW and AW3423DWF are two of the best-looking and best-performing monitors out there. Pick the one that pairs best with your PC and enjoy a true next-level gaming experience.